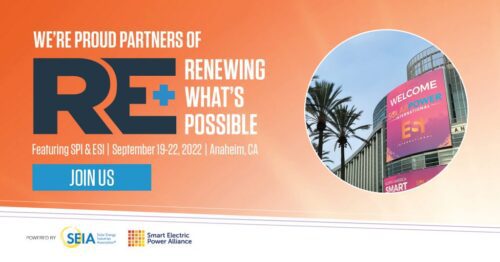 RE+ Anaheim Conference- 19-22 September 2022
The Clean Coalition is partner organization for this conference set to take place 19-22 September 2022 in Anaheim, California.

SPI & ESI are now part of RE+! Join the largest gathering of industry experts, leaders, and professionals from the solar, energy storage, smart energy, microgrid solutions, wind, hydrogen, and EV infrastructure industry for three days of networking and thought leadership at RE+ 2022 on September 19-22 in Anaheim, CA. This is the only event you need to attend to grow your business in the U.S. market.
Use code P1522CLEANCO for 15% off full non-member conference passes!
+ Click here to register and for more information
RE+ brings the modern energy industry together to foster a cleaner future for all. The largest and most comprehensive event in North America for the clean energy industry, RE+ is comprised of: Solar Power International (our flagship event), Energy Storage International, RE+ Power (including wind, and hydrogen and fuel cells), and RE+ Infrastructure (electric vehicles and microgrids) and brings together an extensive alliance of renewable energy leaders for multiple days of programming and networking opportunities.
Focused on accelerating business growth by uniting the energy marketplace for networking, education, and innovation to move the industry forward, RE+ Events supplies your company with solutions that further your success.
RE+ held its inaugural show as "Solar Power International" in 2004 to bring together the people, products, and professional development opportunities that drive the solar marketplace. The event has since evolved alongside the industry, bringing together an extensive alliance of clean energy leaders to become the largest gathering of energy professionals in North America. Today, the multi-day event boasts 19,000+ professionals from all segments of the industry, over 700 exhibitors, and 110 countries.