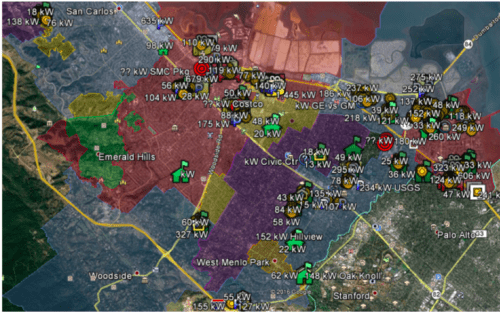 Collaborating and innovating to expand clean local energy in San Mateo County
Through the PAEC initiative, the Clean Coalition is working to demonstrate how California can streamline the creation of advanced energy communities.
The clean energy sector has seen massive innovation and cost reductions over the past decade, but hurdles remain in developing and connecting local renewables to the grid. Through the PAEC initiative, the Clean Coalition is exploring these challenges, identifying solutions, and working with strategic partners to demonstrate how California can streamline the creation of advanced energy communities (AECs).
In the first half of the 18-month PAEC initiative, the Clean Coalition has uncovered local renewable energy deployment opportunities, investigated a number of critical barriers, and developed concrete recommendations to accelerate adoption of clean local energy. Specifically, we have:
Conducted the PAEC Solar Siting Survey, which identified 65 megawatts of commercial solar potential in southern San Mateo County on parking lots, parking garages, and school rooftops.
Analyzed PG&E's Fast Track program and recommended improvements to streamline interconnection of wholesale distributed generation (wholesale DG).
Studied and prioritized Best Practices on energy policies and ordinances in San Francisco and surrounding regions that should be replicated to accelerate the development of AECs.
While these studies shed light on key opportunities to accelerate deployment of AECs, they are only useful if the information and recommendations are used to guide decision making. That's why the Clean Coalition is actively working with our key PAEC partners to disseminate this information.
Already, the Clean Coalition has shared highlights from these studies with dozens of municipalities, school districts, corporations, and institutions that are partners in the PAEC initiative. One group in particular that is incorporating PAEC findings into its work is the Regionally Integrated Climate Action Planning Suite (RICAPS), which is an association of 20 municipalities in San Mateo County overseen by San Mateo County's Office of Sustainability. RICAPS promotes PAEC conclusions in their climate action planning work. Over the past nine months, the PAEC team has presented findings on a number of critical topics to RICAPS members.
The presentations have helped RICAPS members clarify policy direction for expanding electric vehicle (EV) charging infrastructure in existing multi-family and new large retail buildings. The City of Menlo Park has been particularly engaged on this topic and is moving forward with a new EV charging ordinance. RICAPS has also spent time focusing on ordinances and policies that would expand zero carbon space heating and water heating, as well as increase the number of solar carports.
Beyond holding workshops, the PAEC team also disseminates technical information at city planning commission and council meetings. The feedback the PAEC partners receive from municipal, corporate, and institutional partners has been used to further refine PAEC policy recommendations.
Moving forward, PAEC partners and collaborators will hold workshops on recommendations to streamline interconnection and the economic benefits of energy efficiency and fuel switching from natural gas to electricity.
Much work remains to build out AECs. There needs to be deep energy retrofits across the built environment, significant development of local renewable energy projects, an expansion of EV charging infrastructure, and greater use of energy storage systems. The PAEC initiative's technical assessments, best practices research, and policy recommendations so far have been, and will continue to be, useful to municipalities, corporations, and institutions that seek to eliminate barriers to AEC project implementation.
The Peninsula Advanced Energy Community (PAEC) is a groundbreaking initiative to streamline policies and showcase projects that facilitate local renewables and other advanced energy solutions like energy efficiency, energy storage, and electric vehicle charging infrastructure. PAEC will create pathways to cost-effective clean local energy and community resilience throughout San Mateo County, the City of Palo Alto, and beyond. PAEC is a collaboration between the Clean Coalition, the California Energy Commission, Pacific Gas and Electric, and an array of municipalities, emergency response jurisdictions, schools and universities, and corporate entities. For more information, please visit www.clean-coalition.org/PAEC.