Because these programs have proven to be the most effective mechanism for deploying local renewables, we evaluate, design, and implement CLEAN Programs: market-based, cost-effective Feed-In Tariffs (FITs) with streamlined interconnection.
CLEAN Programs make it easier to build clean local energy projects, connect them to the grid, and establish long-term contracts to sell the power produced to utilities. With CLEAN Programs in place, financing clean local energy projects becomes much easier, and the whole community benefits.
To help proliferate these programs, we have provided a wealth of free tools to help utilities design and implement programs to bring local renewables online.
Download the CLEAN Program Guide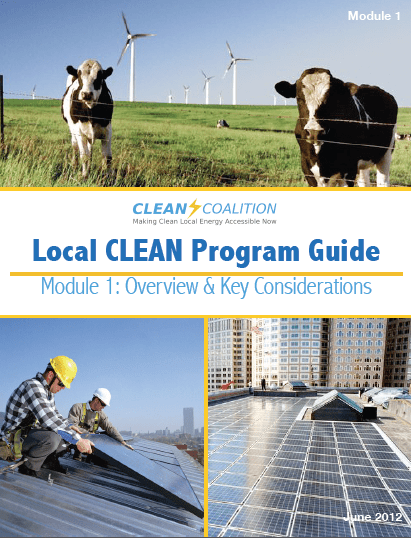 Please contact the Clean Coalition if you have any questions about the CLEAN Program Guide or if you are interested in becoming a champion for a CLEAN Program in your community.