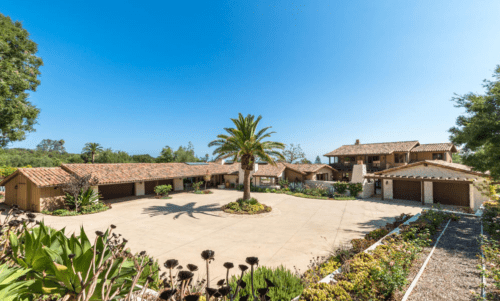 An ambitious residential Solar Microgrid initiative launches in Southern California
The Clean Coalition is facilitating a showcase project to bring the first homeowner unparalleled economic, environmental, and resilience benefits — and to stage a model for residential Solar Microgrids.
The Clean Coalition has partnered with a homeowner in Montecito, California, on an exciting project to manage the development, deployment, and standardization of two Solar Microgrids on the estate, one for the main home and the other for a guest house and orange tree orchard. Solar Microgrids feature solar+storage, as well as microgrid controls, to allow islanding during electric grid outages and to provide indefinite solar-driven resilience for the most critical loads — and resilience for all other loads for substantial percentages of time.
Extensive project benefits
The homeowner is motivated by a desire for the unparalleled economic, environmental, and resilience benefits of Solar Microgrids.
As significant as these benefits are, the value of the Solar Microgrids goes far beyond one homeowner. This state-of-the-art residential Solar Microgrid project will serve as a showcase and blueprint that other residential estates can follow, throughout the Santa Barbara region and well beyond.
The two Solar Microgrid systems will allow the homeowner to:
Achieve solar net zero by generating as much solar electricity on the site as is consumed over the course of a year.
Power all critical electricity loads during power outages using solar+storage, and power all other loads when energy is plentiful via solar+storage and/or via the existing natural gas generator (assuming that natural gas service is available, which is not a given due to extended gas outages from earthquakes, fires, and other disasters).
Save money on electricity bills through offsetting utility energy, as well as time-shifting the solar energy so it is used during economically optimized time periods, when electricity is the most expensive — which nowadays is between 4pm and 11pm.
Additionally, the project aims to:
Develop and deploy a replicable large residential load management system using market-ready smart electrical panels, and if needed, microgrid controllers.
Control existing and future electricity loads during normal grid operation and during outages.
Enable economically optimized electric vehicle (EV) charging.
Control the existing natural gas generator for last-resort power backup, in the most efficient and least carbon-polluting manner possible.
An ambitious project timeline
The Clean Coalition is managing the development of the project through a solicitation process to select a single solution provider who will design and install the system, as well as perform ongoing operations & maintenance (O&M) for at least 10 years. A request for proposal (RFP) was issued in early June 2020, with the aim to contract the solution provider by the end of June. The project is expected to be operational by 31 October 2020 — just four months after the project is contracted — in anticipation of California's fire season and before the Investment Tax Credit (ITC) drops from 26% to 22% on 1 January 2021.
After contracting the solution provider, the Clean Coalition will serve as the homeowner's representative throughout the installation phase of the project, guiding decisions, managing the project schedule, and answering questions. The Clean Coalition will also provide ongoing monitoring & verification (M&V) to ensure that the operational Solar Microgrid performance is consistent with expectations.
Project features
This Spanish-style estate in Montecito, California, has two electrical services that power the home and an onsite orange tree orchard. The property has ample options and space to install the solar+storage — the guest house roof alone, the preferred siting choice, has sufficient solar siting opportunity for more than half the electricity load at the site, across both meters. There is also a ground-mount opportunity on a south-sloping hillside at the northeast portion of the site, but the hope is to use rooftop surfaces and avoid consuming any ground space.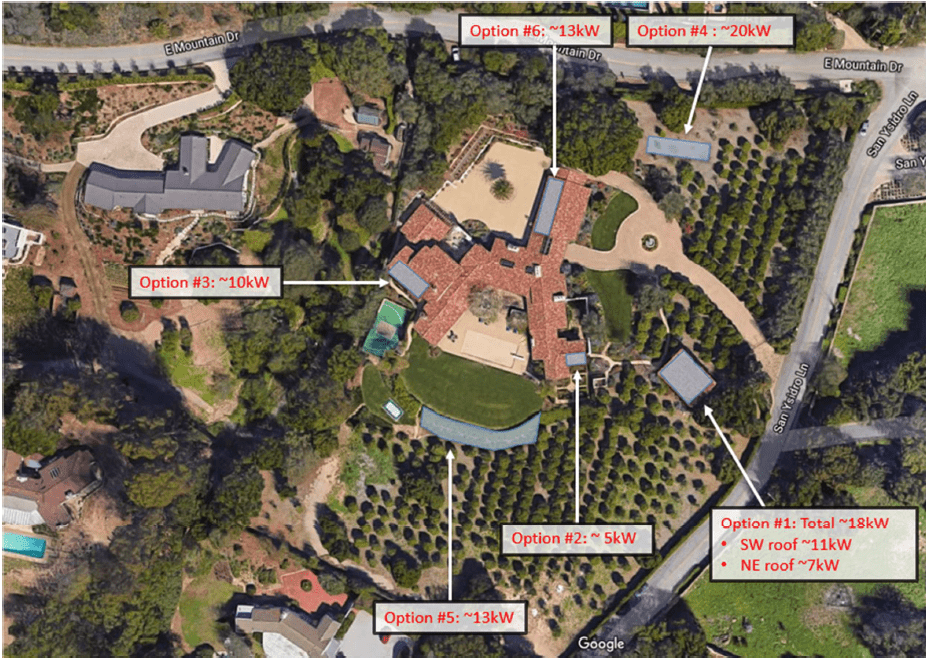 Key project features include:
30 kilowatts (kW) of solar.
70 kilowatt-hours (kWh) of energy storage.
Two Level 2 electric vehicle (EV) charging outlets.
Up to 10 smart panels for sophisticated load management, including consumption monitoring and load control.
A potential microgrid controller for seamless coordination of the solar, storage, and smart panels.
Two separate utility meters.
An existing 10.5 kW natural gas generator.
Value of Resilience (VOR) is significant
Electricity loads have varying levels of importance. Therefore, the process of provisioning energy resilience relies on allocating loads into different tiers so that energy can be provided to critical loads first, priority loads second, and all other loads thereafter. The Clean Coalition has developed a methodology, VOR123, for allocating loads into the following three tiers:
Tier 1, usually about 10% of the total load: Mission-critical and life-sustaining loads that must be kept operational at all times, including during grid outages.
Tier 2, usually about 15% of the total load: Priority loads that should be maintained as long as doing so does not threaten the ability to maintain Tier 1 loads.
Tier 3, usually about 75% of the total load: Discretionary loads that can be maintained when doing so does not threaten the ability to maintain Tier 1 and Tier 2 loads.
The average anticipated resilience, in terms of percentage of time online, is:
Tier 1: 100%
Tier 2: 80% (at least)
Tier 3: 25% (at least)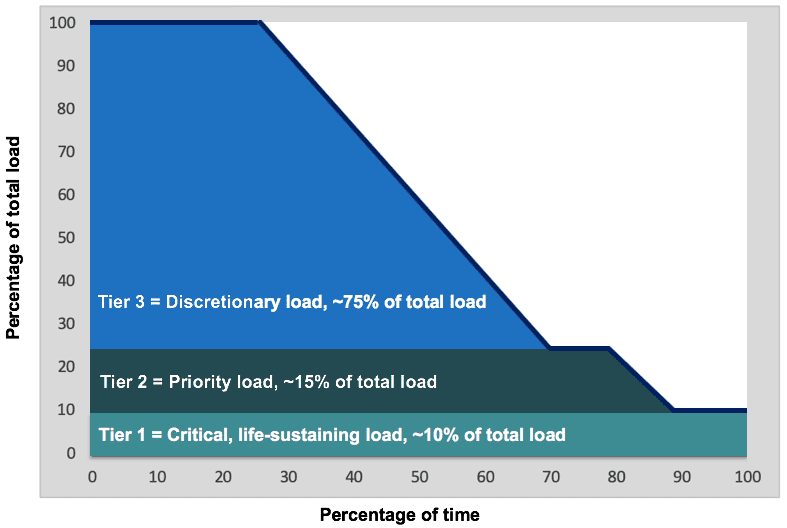 For this residential Solar Microgrid project, Tier 1 loads have been identified as refrigerators and freezers, a kitchen range, the electric gate, and a number of lights & plug-loads. Tier 2 includes communications facilities and additional lights & plug-loads. All other loads are Tier 3.
Battery operations
The solution provider selected for the project will be responsible for provisioning specified Battery Energy Storage Systems (BESS) capacities for daily cycling for at least 10 years from Commercial Operation Date (COD); the specified capacities are required for achieving the expected economic and resilience performance. While BESS energy capacity reserves might be needed to comply with battery degradation and battery warranty requirements, those reserves cannot impact the BESS energy capacity that is available for daily cycling over the full minimum 10-year O&M period. The state-of-charge (SOC) that is required for the specified level of resilience (SOCr) should be dynamic and regularly recalculated in response to solar and load forecasts such that the maximum level of BESS energy capacities are always available for economic optimization.
Importantly, the homeowner must be able to override SOCr settings to between 0% and 100% of the daily usable BESS energy capacities. If preferences increase for everyday economic optimization, then the homeowner can set lower SOCr levels. Conversely, in the face of coming storms and/or Public Safety Power Shutoff (PSPS) warnings, the homeowner can set higher SOCr levels to prepare for the increased likelihood of grid outages and associated energy resilience needs.