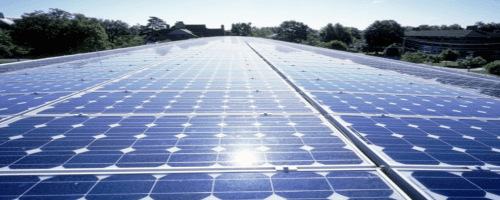 Best practices encouraging clean local energy deployment in California
The PAEC Best Practices Report is designed to make it easier for municipalities to reduce greenhouse gas emissions and meet their climate goals.
Local governments across California play a vital role in shaping the state's energy future. Leading municipalities have developed innovative ordinances and programs to drive adoption of energy efficient technologies and renewable energy systems. Earlier this year, clean energy experts and stakeholders involved in the Peninsula Advanced Energy Community (PAEC) initiative researched innovative local government efforts that merit replication.
Based on this research, the Clean Coalition has released a new report to highlight these best practices for encouraging development of a clean energy future across five areas: energy efficiency, renewable energy, zero net energy, energy storage, and electric vehicle (EV) charging infrastructure. The following five ordinances and programs are just a sampling of the dozens highlighted in the PAEC Best Practices Report.
1. Energy efficiency in San Francisco
San Francisco's Commercial Building Benchmarking Ordinance requires property owners of commercial buildings 10,000 square feet and larger to track their building's annual energy consumption. In addition to Energy Star benchmarking, these commercial buildings are required to have a qualified energy auditor conduct an audit every five years that yields a list of specific energy saving opportunities, as well as applicable rebates.
Benchmarking data from 2010-2015, publicly available on the City of San Francisco website, catalogues energy utilization index scores for commercial buildings and allows building owners and managers see how their energy use compares to others.
2. Renewable energy in Lancaster
To encourage investment in renewable energy systems, the City of Lancaster adopted a mandatory solar requirement for new homes. As of January 1, 2014, all new residential structures must have a solar photovoltaic (PV) system of at least 0.5-1.5 kilowatts (kW), based on the zoning/lot type. Additionally, the ordinance requires that installed solar PV systems shall produce at least 2 watts per square foot of each home built. For example, a 2,000 square foot home would require a builder to install a 4 kW system.
3. Zero net energy in Watsonville
In 2015, the City of Watsonville adopted the Carbon Fund Program to encourage development projects to incorporate more energy efficiency and onsite renewable energy systems. The goal of the city's requirement is to reduce Watsonville's overall greenhouse gas emissions.
Funds for the program are collected through a Carbon Impact Fee, which is levied on all residential and non-residential development projects, as well as major additions and alterations on existing buildings. Developers can be refunded a portion, or all of their Carbon Impact Fee, if they offset their development's average annual electricity demand through renewable energy and energy efficiency. The program incentivizes developers to create energy efficient zero net energy projects that will save tenants money on their utility bills, as many residents are renters in this economically disadvantaged community.
4. Energy storage in Redwood City
In 2014, Redwood City partnered with Green Charge Networks to install EV charging stations with intelligent energy storage at five locations. EV charging can be an irregular, power-intensive activity that results in peaks of energy use. This EV charging infrastructure, which includes the Redwood Shores Branch Library and the city's downtown parking garage, provides peak shaving by drawing power from energy storage systems during times of high demand.
The project was developed at no cost to Redwood City due to the financial agreement and shared savings resulting from the public/private partnership.
5. EV charging infrastructure in Fremont
The City of Fremont recently adopted green building standards that require new construction projects and major additions to include parking spaces that are "EV Ready" —meaning they are equipped with an EV charging unit. This requirement applies to single-family residential, multi-family, and non-residential projects.
Single-family homes must have one EV Ready parking space for each dwelling unit. For multi-family and non-residential developments, EV Ready parking spaces must comprise 10 percent of the total number of new parking spaces.
This EV Ready requirement will speed adoption of EVs in Fremont, a city that already boasts the most EV drivers of any zip code (94539) in California.
A clean energy future
These forward-thinking ordinances and programs in San Francisco, Lancaster, Watsonville, Redwood City, and Fremont are encouraging implementation of clean local energy systems and creating models that other municipalities can easily adopt. At a time when local governments are being asked to do more with less, this PAEC Best Practices Report is designed to make it easier for municipalities to understand strategies to reduce greenhouse gases and reach Climate Action Plan goals.
The Peninsula Advanced Energy Community (PAEC) is a groundbreaking initiative to streamline policies and showcase projects that facilitate local renewables and other advanced energy solutions like energy efficiency, energy storage, and electric vehicle charging infrastructure. PAEC will create pathways to cost-effective clean local energy and community resilience throughout San Mateo County, the City of Palo Alto, and beyond. PAEC is a collaboration between the Clean Coalition, the California Energy Commission, Pacific Gas and Electric, and an array of municipalities, emergency response jurisdictions, schools and universities, and corporate entities. For more information, please visit https://www.clean-coalition.org/paec. Go here to view the The final PAEC Best Practices Report.