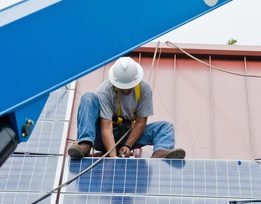 The Business of Local Energy Symposium
Executive Director Craig Lewis presented at this event, which took place on March 4, 2016 in San Jose, CA.
Craig Lewis, Executive Director for the Clean Coalition, discussed Community Microgrids at The Business of Local Energy Symposium, which took place on March 4, 2016 in San Jose, CA. The Clean Coalition was also a proud partner organization for this event.
The Center for Climate Protection organized the Symposium to accelerate California's shift to a clean energy economy, driven by local government and business. This event provided a forum to exchange ideas about Community Choice Energy programs and to learn about current energy policy, regulations, markets, and technology. Mr. Lewis took part in a group discussion titled "Big ideas to optimize Community Choice Energy impact and sustainability."
Symposium Topics included:
Community Choice 101: Governance, risk assessment, financing, procurement, operations
Critical elements of successful Community Choice programs
Community Choice 201: Getting up and operating fast
Designing programs that drive economic development
Opportunities and challenges of developing distributed energy resources
Policy and regulatory trends that will impact local energy efforts
The PCIA exit fee – its impact and what can be done about it
Top local renewable energy and efficiency programs
Financing Community Choice – addressing the bottleneck
Forecasts about utilities, regulations, and markets of the future
Leveraging storage, electric vehicles, and microgrids to enhance local energy projects
Community Choice as a system integrator and platform for innovation
The water-energy nexus and how they relate to developing Community Choice programs
What local programs need from the state and how they can get it
Who Attended: 
Community Choice energy operators and advocates, elected officials considering a program, electric service providers, clean tech entrepreneurs, utility experts, businesses with an interest in distributed energy resources, and anyone interested in the energy system of the future.
Those involved with private utilities and Community Choice cross-pollinated with energy entrepreneurs working on storage, energy efficiency, automated demand response, microgrids, and cutting-edge renewable energy technologies. Participants explored the creation of a cost-effective path toward a renewable energy future.