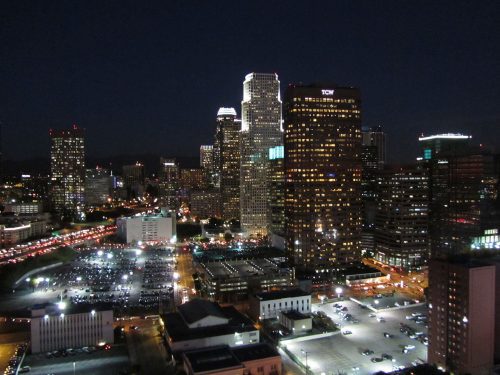 CLEAN L.A. Solar continues to shine
The program was designed to drive efficiency in the solar market by reducing the amount paid for solar energy over time.
With abundant sunshine and vastly underutilized rooftops, solar energy is a natural fit for Los Angeles. And the CLEAN L.A. Solar program is helping the city seize this opportunity.
Launched in early 2013 by the Los Angeles Department of Water and Power (LADWP), CLEAN L.A. Solar is designed to bring 150 megawatts (MW) of solar energy online by 2016 – enough to power more than 21,000 homes. By offering a must-take, fixed-rate, 20-year contract, this program enables businesses and commercial property-owners to generate energy from rooftop solar panels and sell power to the utility. Currently, this CLEAN Program is the largest among any municipal utility nationwide.
Through CLEAN L.A. Solar, LADWP sought to "achieve the target level of solar energy, catalyze the solar industry and create jobs, and streamline the process to increase efficiency."As LADWP's Board prepares to vote on opening the 4th tranche, let's take a detailed look at the program's performance to date.
Achieve the target level of solar energy
CLEAN L.A. Solar was designed to help LADWP meet the statewide RPS goal of 33% by 2020, as well as Senate Bills 32 and 1332 that require the utility to provide a standard offer program for roughly 75 MW of capacity. 
On this front, the program is performing well. Within its first week, LADWP received applications totaling 107 MW – highlighting significant market demand to build distributed solar projects in Southern California. Each successive tranche has continued to be highly attractive to the market. The most recent 20 MW tranche, which was unanimously approved by the DWP Board in February, received 45 project applications totaling 43 MW.
With 99 MW of projects reviewed and 50 MW of projects active, CLEAN L.A. Solar will undoubtedly ensure that LADWP meets its mandated renewable energy goals.
Catalyze the solar industry and create jobs
Local power keeps energy dollars close to home, which strengthens the local economy through private investment and job creation.
A study by UCLA's Luskin Center for Innovation found that CLEAN L.A. Solar would create over 2,000 jobs and drive more than $300 million of investment into the City from solar businesses and other companies related to the program. Through the first 40 MW, the program has created of 862 job and is on pace to met projected impacts.
And despite the conception that solar panels are only for the affluent, the benefits of CLEAN L.A. Solar are reaching Angelenos of all means. More than half of the projects are sited in areas with the highest solar potential and the highest economic need, according to the Los Angeles Business Council. The rise of distributed generation – from rooftop solar PV or otherwise – empowers communities to reap the benefits of clean local energy.
"What excites us about this program is the new opportunity it brings to address long standing issues in the communities of L.A. with high economic need. We will see job creation, small and medium-sized business development, and cleaner air to breathe," said Bill Gallegos of Communities for a Better Environment. 
Streamline the process to increase efficiency
CLEAN L.A. Solar was designed to drive efficiency in the solar market by reducing the amount paid for solar energy over time. Through a "declining price tier system," projects in the first tranche were offered $0.17/kWh, and the price offered drops in each subsequent tranche.
As the offered price has dropped, interest in the program has remained – signaling that the program is successfully driving towards a more efficient solar market.
Through a similar CLEAN Program, the Germans have streamlined the process of bringing clean local energy online and made their solar market decidedly more efficient than the United States'. Current rooftop solar installations in the U.S. are 2.5 times more expensive than in Germany, despite the fact that system equipment costs are largely comparable. The Germans have realized cost reductions for overhead, customer acquisition, and permitting through their CLEAN Program. As expected, CLEAN L.A. Solar is delivering these cost reductions as the local industry gains greater experience developing projects in a predictable market, which also improves supply chain and labor efficiencies.
California, with its superior solar resource and applicable tax incentives, has the potential to bring rooftop solar online even cheaper than in Germany. Replicating Germany's market scale and efficiency can yield rooftop solar power between 5¢ and 7¢/kWh in California. Add in the cost of permitting, interconnection, and any applicable grid upgrades paid by facility owners, and the total cost of delivered energy to Californians comes out to 7-9¢/kWh. For more informative on how CLEAN L.A. Solar is leading the effort to drive solar market efficiency and cost reductions, please see the recent Clean Coalition memo on this topic.
A near-term expansion
Stars are aligning for a 4-fold expansion of CLEAN L.A. Solar.
During his campaign, L.A. Mayor Eric Garcetti pledged to increase the program from 150 MW to 600 MW. Now, City council members — as well as a broad coalition of business, civic, academic and environmental groups – are rallying support for this expansion. Last week, City Council President Herb Wesson announced his support for the expanded 600 MW program. This comes on top of ten Neighborhood Councils, which have passed motions to expand the program.
According to independent studies by UCLA and the Clean Coalition, expanding CLEAN L.A. Solar to this size would bring the city over 18,000 new job opportunities and up to $2 billion in private investment.
So the question becomes not how or why, but when?