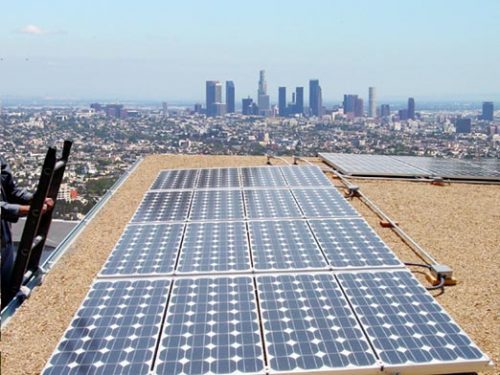 CLEAN Programs continue to gain traction
Programs in Colorado, California, and Georgia are showing how to effectively bring local, renewable energy online
From California to Georgia, utilities continue to adopt Clean Local Energy Accessible Now (CLEAN) Programs as a proven way to quickly and cost-effectively bring local, renewable energy online.
In late November, city leaders from Fort Collins, Colorado approved funding for Fort Collins Utilities' Solar Incentive Program — a CLEAN Program expected to bring at least 15 MW of local solar energy online starting on January 1.  The Clean Coalition extends special recognition to Katie Hoffner, a Fort Collins resident and clean tech champion who got the CLEAN process rolling in Fort Collins and has been a key ongoing force in ensuring that the best possible program gets launched.
In Los Angeles, following a successful 10 MW pilot program, the Los Angeles Department of Water and Power (LADWP) announced on August 14that the utility approved a 150 MW CLEAN Program in an effort to meet its goal of deploying 600 MW of solar power by 2020.  The Clean Coalition has recommended the use of a Volumetric Pricing Adjustment (VPA) that will provide the pricing efficiency of an auction process combined with the transactional efficiency of a fixed-price, standard, must-take contract; with the price being set by market response.  See the detailed Clean Coalition recommendations here.
The City of Palo Alto Utilities sent proposed improvements for the Palo Alto CLEAN Program to the Palo Alto Utilities Advisory Commission and the City Council's Finance Committee.  Proposed improvements include extending the program beyond December 31, 2012, removing the 100 kW minimum project size, and actively marketing the program to property owners.  Additionally, the City Council Finance Committee suggested that the amount paid to generators be increased from 14 cents/kWh to 16.5 cents/kWh for the first 2 MW of program capacity.  The City Council is scheduled to vote on the proposed changes on December 17.
The final big move for CLEAN Programs in 2012 came from the Southeast, where Georgia Power announced a major CLEAN Program — called the Advanced Solar Initiative.  The program opens 90 megawatts (MW) of local solar capacity, a massive amount for any state, but particularly for a state in the Southeast.  When designing the program, the utility wisely analyzed the full-cost of traditional brown power, including the often hidden transmission-related costs.  Through this assessment, Georgia Power determined the total avoided cost of energy to be 13 cents/kWh, which the utility will pay for local solar energy.  Since this price represents only the avoided cost of brown power, solar generators will retain the Renewable Energy Credits (RECs), providing additional value beyond the 13 cents/kWh price.