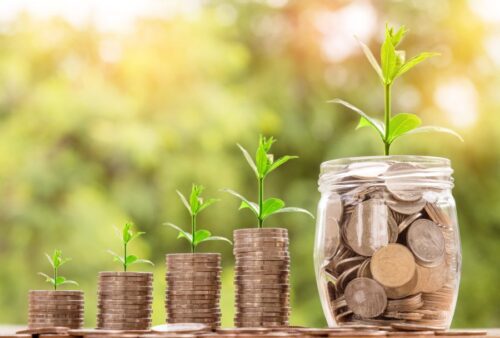 Getting paid to go green
How I'm making money by leasing an electric vehicle.
The desire to own a dog came long before my desire to own an electric vehicle (EV), but I never would have guessed that they both would be satisfied on exactly the same day. I mostly have the magic of fate to thank for that — but I can proudly say that research and persistence also played a large role. While the time and effort put into finding the right dog has paid off tremendously in companionship and unconditional love, the time and effort put into leasing an EV has paid off in a net gain of $620.
Yes, I did indeed say a net gain of $620.
I was shocked myself when I first started adding together the California grants and rebate funds that I could receive when purchasing or leasing an EV. I will transparently state that this was the case because I met certain income requirements and reside in California. I was also guided by the Community Environmental Council's electricdrive805 website, which helps you understand whether you qualify for a free or low-cost leased or used electric vehicle in eight simple steps.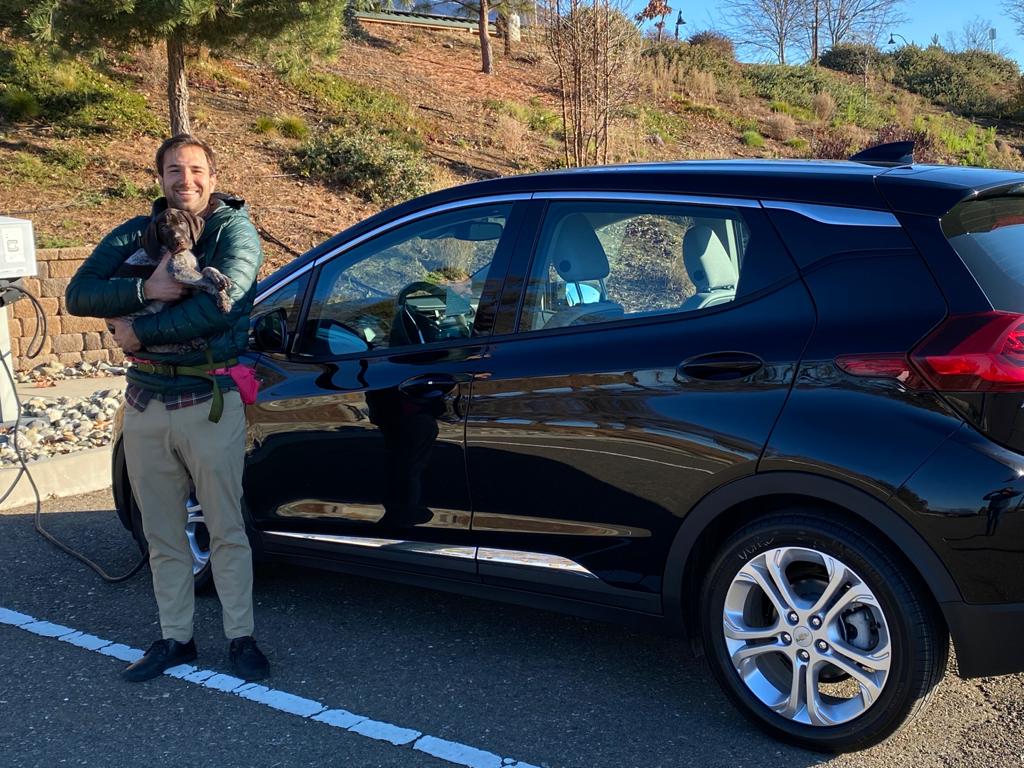 Cost breakdown and specs for my 2020 Chevy Bolt LT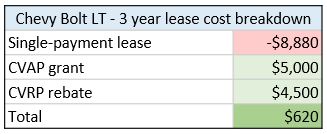 Details of the three-year lease cost breakdown:
$8,880

: Single-payment lease

$5,000

: Clean Vehicle Assistance Program (CVAP) grant applied directly at the dealership, reducing the single-payment lease to $3,880

$4,500

: Clean Vehicle Rebate Project (CVRP) rebate, received two to three months after purchase or lease of EV
Net positive

+$620

, with an additional

$1,000 – $2,000

in EV charging credits or the purchase and installation of a Level 2 EV charging station for my home provided by CVAP and GRID Alternatives
2020 Chevy Bolt LT specs:
Range: 259 miles on battery only
MSRP: From $36,620
MPGe: 127 city / 108 highway
Curb weight: 3,563 lbs
Horsepower: 200 hp
Tire size: P215/50R17
Dimensions: 164″ L x 70″ W x 63″ H
Total seating capacity: 5
Starting the process with the Clean Vehicle Assistance Program
I kicked off the process with my application for grant funds from the Clean Vehicle Assistance Program (CVAP). The CVAP provides grants and affordable financing to help income-qualified Californians purchase or lease a new or used hybrid or electric vehicle. It is funded by California Climate Investments, a statewide initiative that puts billions of Cap-and-Trade dollars to work reducing greenhouse gas emissions, strengthening the economy, and improving public health and the environment — particularly in disadvantaged communities.
Once you receive your approval letter, the grant funds can then be applied at the dealership — unlike rebates, which you have to apply for after you purchase or lease the vehicle.
This table shows the CVAP grant income requirements: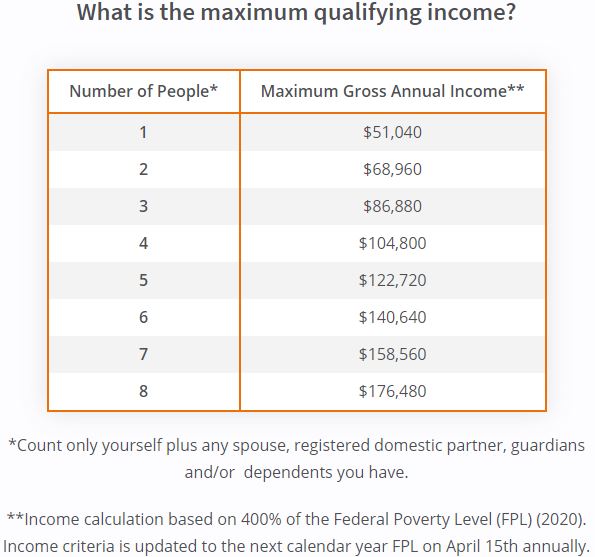 You can even check your eligibility by answering three simple questions on the eligibility page of the CVAP website. Because I was in graduate school and working only part time during the 2019 tax season, I was able to show that my income met the eligibility requirements, qualifying me for the following grant amounts:
$5,000 for a Battery Electric Vehicle (BEV)
$4,500 for a Plug-in Hybrid (PHEV)
$1,500 for a Hybrid (HEV)
According to the CVAP website, the entire application process, once you have submitted your application, can take anywhere from three weeks to three months, with an average of around six weeks. I received my approval letter on 14 January 2021, nine weeks after submitting my application on 11 November 2020.
The approval packet came with instructions, tips, a vehicle requirements checklist, a list of qualified dealers, and a grant confirmation page that both the dealership and I needed to fill out. I was also given 90 days to use the grant, but due to the impacts of COVID-19, the CVAP increased that time to 125 days. In addition, I could choose between a $1,000 EV charging card to be used at  ChargePoint and EVgo charging stations, or $2,000 for the purchase and installation of a Level 2 EV charger at my residence. Either choice can only be redeemed 30 days after the purchase or lease date, but must be redeemed no later than 90 days after the purchase or lease date.
Selecting my car
At this point, I dove head first into reaching out to each of the dealerships listed on the qualified dealer's page, starting with the dealerships closest to me and working outward. I kept track of the dealerships I reached out to, the vehicle colors and comfort and convenience packages included in their available versions of the Chevy Bolt LT (heated driver and front passenger seats, automatic heated leather-wrapped steering wheel, and auto-dimming inside rearview mirror), and the single-payment lease that they quoted me. The salespeople I spoke with took 3-48 hours to call me back after checking with their managers about a quote and I never told the dealerships that I would be using the CVAP grant or CVRP rebate, as I didn't want this to interfere with the quote they were going to provide me.
Over the course of about four weeks, I spoke with 13 Chevrolet dealers and received verbal quotes from all of them. While I did attempt to acquire written quotes, none of the dealerships would provide me with one. The number of incentives that I qualified for did have a large impact on the quotes I was provided. I was asked the following questions by the dealerships to see if I qualified for certain incentives:
Are you a recent graduate?
Are you or anyone in your household currently leasing a vehicle?
Do you or anyone in your household own a vehicle that is 2007 or newer?
Are you a Costco member?
How many years and how many miles are you interested in this lease for?
It is common for incentives to change on a monthly basis, which can affect the quote that you receive for a single-payment lease. I qualified for the recent graduate incentive, as well as some standard incentives that were being offered by Chevrolet that anyone would qualify for. The average of the 13 quotes that I received for a single-payment, three-year, 10,000-mile-per-year, 2020 Chevy Bolt LT lease was $11,131. The lowest single-payment lease quote I received was from a Chevrolet dealership in Elk Grove, California, near Sacramento, for $8,880.
While I could have called many other dealerships closer to where I live in Santa Barbara, I was also focusing on dealerships near Sacramento because I was already planning on taking a trip there to adopt a puppy. And the Chevrolet dealership that was offering me $8,880 for a single-payment lease had a black 2020 Chevy Bolt available. So I decided to rent a car in Santa Barbara and drive up to Elk Grove the night before, sign the lease in the morning the next day, drop off the rental car in Elk Grove, and then drive my new Chevy Bolt to a small town nearby to pick up my new dog, Quest, in the afternoon, before heading back to Santa Barbara.
Applying for rebates through the Clean Vehicle Rebate Project
The day after signing the lease for my new 2020 Chevy Bolt, I submitted my application for the CVRP rebate.
Income eligibility requirements apply to rebate applications for vehicles purchased or leased on or after March 29, 2016.
To be eligible for CVRP rebates, applicants' gross annual incomes must not be above the following thresholds: $150,000 for single filers, $204,000 for head-of-household filers, or $300,000 for joint filers. The income cap applies to all eligible vehicle types except fuel-cell electric vehicles.
Applicants with household incomes less than or equal to 400% of the federal poverty level are eligible for an increased rebate amount of $2,500. Applicants who are claimed as dependents are not eligible for increased rebates regardless of their income. Increased rebate amounts are available for fuel-cell electric vehicles, battery electric vehicles, and plug-in hybrid electric vehicles.
Application processing times vary depending on the volume of applications that the CVRP has to process. At press time for this blog post, the CVRP processing times web page states:
Applications not selected for income verification: 69 calendar days.
Applications selected for income verification: 138 calendar days.
Process recap
I am currently waiting to receive the CVRP funds of $4,500, which I expect to arrive in the next two to four weeks. Given this, it will have taken approximately 127 days from the day I received the CVAP approval letter to complete the process of leasing a Chevy Bolt and receiving the rebate funds, to come out to a net gain of $620.
I found that the most time-consuming portion of this process was calling each of the qualified dealerships and asking for a quote. This also required me to share my phone number and email, which often put me on the dealership's list of interested customers. For several weeks after I signed the lease, I was still receiving calls from other dealerships trying to offer me their business. In some cases, these dealerships even lowered the price from their previous offer — but they took me off their list once they heard I had already found a Chevy Bolt.
Overall, the time spent filtering through dealerships was completely worth getting paid $620 and leasing a car for free. I also chose to go with the $1,000 in charging credits, because I am unable to install a Level 2 charger at my current residence. Having $1,000 in charging credits will greatly help cut costs; the cost to fully charge my Chevy Bolt can range anywhere from $0 to $30. Currently, I find myself charging biweekly at Level 3 (DC fast) charging stations located in grocery store parking lots and sometimes at Level 2 charging stations scattered across the City of Santa Barbara, the City of Goleta, and the rest of Santa Barbara County.
If you meet certain income requirements, you can either significantly reduce the cost of a lease or get paid a net-positive amount. This can be a huge deal for people in need of a low-cost way to secure transportation. However, the process should still be approached with caution, because you are signing a legal contract when you complete the lease paperwork at the dealership. To further help anyone who is interested in following in my footsteps, I have included some tips, tricks, and helpful websites below.
Tips and tricks
Even if you are unsure about engaging in this process, I highly recommend that you apply for the CVAP grant. If you receive an approval letter, there is nothing tying you to using it. If you don't use it in the 90-125 day timeframe, then you can simply apply again.
At the dealership, I recommend that you request a copy of the CVAP grant confirmation page after the dealership has filled out their portion. They will keep the CVAP grant confirmation page in order to process it on their end after you leave the dealership, and it is important that you have a copy for your own records.
Incentives that dealerships offer change on a monthly basis, so their lease prices may change frequently. Check with qualified dealerships often for the best price.
When requesting quotes, don't mention anything about your plans to use the CVAP or CVRP funds to pay for the vehicle. You want the dealership to give you the most honest price without thinking that you could afford more.
When you return your vehicle at the end of the lease, expect that you may have to pay a disposition fee of around $300 or $400, which covers some of the costs for the dealership to resell the car you were leasing. If you return your leased car in poor condition or if you exceed the mileage limits laid out in your lease terms, you may also be charged extra fees.
Check with your Community Choice Aggregator (CCA) or utility for extra rebates, which some are providing. For example, MCE is currently providing an additional $3,500 for customers in their service territory. However, rebates from CCAs are quickly being depleted.
Helpful websites