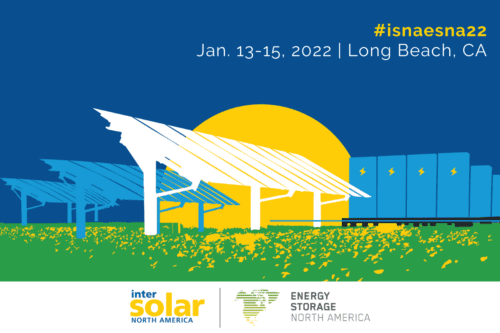 Intersolar North America | Energy Storage North America – 13-15 January 2022
The Clean Coalition was a partner organization for this event, which took place on 13-15 January 2022 in Long Beach, CA
The Clean Coalition was a partner organization for Intersolar/Energy Storage North America Conference, which took place at the Long Beach Convention and Visitors Bureau on 13-15 January 2022.
Intersolar North America and Energy Storage North America came together for the first time 13-15 January 2022, connecting installers, developers, utilities, technology providers, policy makers, and key stakeholders from around the world to advance the clean energy future. As the first major solar + storage event of the year in North America, #isnaesna22 highlighted the latest energy technologies, services, companies, and organizations striving to create positive impact on climate change and support our planet's transition into a more sustainable energy future.
Click here for more information
Attend
Attendees get in-depth technical training, hands-on product workshops, trends, and education from top experts. Experience the solar industry's best practices for the design, installation, and maintenance of code-compliant PV and storage systems. Tour the expo floor to review the best-in-class companies and the top solutions, services, and products for the year ahead.
Exhibit
Exhibitors meet thousands of solar and energy storage professionals from around the world, do business face-to-face, and network to meet new prospects and customers.
Click here for more information
2022 Attendance Guidelines
All attendees, exhibitors, partners, speakers, and staff were required to provide proof of COVID-19 vaccination, or a negative COVID-19 test from no more than 72 hours prior to arrival at the event pursuant to the State of California's mandate for Mega Events and the Long Beach Health Officer Order.
All attendees were also required to wear a mask onsite indoors unless they are making a presentation, eating, or drinking, and are following social distancing guidelines issued by state and federal agencies.