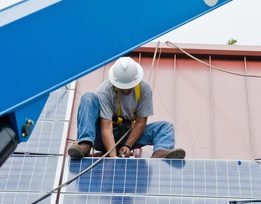 Local CLEAN Program Guide Module 2 Release
This module provides a roadmap for establishing fixed prices for CLEAN Contracts.
The Clean Coalition recently announced the release of Module 2: Establishing CLEAN Contracts Prices of the Local CLEAN Program Guide. The Guide is a comprehensive how-to guide for communities and utilities across the nation to evaluate, design, and enact Clean Local Energy Accessible Now (CLEAN) Programs based on global best practices for ramping cost-effective renewables and reaping the associated economic benefits.  The Guide draws from tremendously successful CLEAN Programs in the United States, such as the Gainesville, FL program and the soon-to-be operational CLEAN Programs that the Clean Coalition helped design in Fort Collins, CO and Palo Alto, CA.
Module 2 of the Guide provides a roadmap for establishing fixed prices for CLEAN Contracts.  Since pricing effects both the types and amounts of renewable energy that will be deployed, as well as the timeframes of those deployments, the pricing is a critical step in designing CLEAN Programs.  Module 2 removes the mystery of establishing fixed prices by illuminating the both potential approaches: value-based pricing based on avoided costs and cost-based pricing based on deployment costs.
Sign up here on our mailing list to receive the Clean Coalition monthly newsletter and to be notified when the additional modules are ready for release.