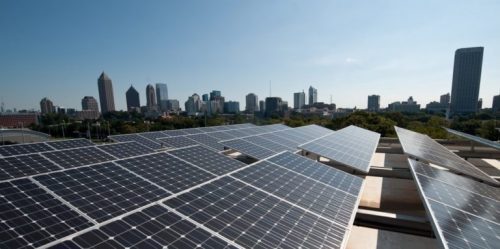 MADRI Working Group Meeting #38
The Clean Coalition's Sahm White spoke at this event, which took place on May 14, 2015.
Sahm White, Director of Policy & Economic Analysis at the Clean Coalition, spoke at the Mid-Atlantic Resources Initiative (MADRI) Working Group Meeting #38, which took place on May 14, 2015. Mr. White took part in the panel discussion, "Distribution Planning: What's going on?"
With the growth of distributed energy resources (DER) such as energy efficiency, demand response, and distributed generation, traditional distribution utilities are experiencing changes such as lower sales and greater challenges in system planning because they have less complete information and less control regarding load and resources interconnected to their grid. Nor do they necessarily know when utilization of sections of the grid may decline due to customer engagement in distributed energy resources. Further, concerns over the resiliency of the grid have emerged along with the need for massive infrastructure upgrades. In some instances, strategically located DER may be a lower cost alternative to extensive capital expenditures to harden the grid and make it more reliable. While in the past distribution service has not garnered much attention, the focus is shifting as events like Hurricane Sandy remind us of the importance of a strong and reliable grid.
The MADRI Working Group Meeting #38 focused on distribution planning and the evolving role of DER. The Clean Coalition's Sahm White presented and sat on a panel covering comprehensive planning at the distribution system level. The three speakers discussed: the new approach being taken in New York; the California docket on incorporating DER into planning; and the distribution plans filed in Pennsylvania.
MADRI was established in 2004 and seeks to identify and remedy retail barriers to the deployment of distributed generation, demand response, and energy efficiency in the Mid-Atlantic region. MADRI's guiding principle is a belief that distributed resources should compete with generation and transmission to ensure grid reliability and a fully functioning wholesale electric market.