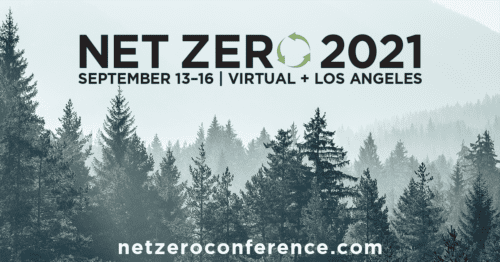 Net Zero 2021 Conference – 13-16 September 2021
The Clean Coalition is a partner organization for this conference, which will take place 13 - 16 September 2021.

NET ZERO + ZERO CARBON + CLIMATE RESILIENCE
The Net Zero Conference is the world's largest net zero conference & expo. Join industry leaders on 13 – 16 September 2021 for an interactive Expo Hall, exciting keynotes, and educational sessions on net zero energy, decarbonization, and climate resilience.
The conference will provide synergistic learning opportunities across industries, including Buildings + Energy + Water + Waste + Transit + Agriculture + Fashion + Materials + Personal Care + Technology.
Use code NZCCMP15 for 15% percent off any conference package!
Click here for more information and to register
The Net Zero Conference is back in 2021 as a hybrid event:

Tuesday 9/14 + Wednesday 9/15 | Virtual
Educational Sessions, Keynotes, and Expo

Thursday 9/16 | The Terrace at L.A. LIVE
Limited capacity in-person Expo + Trailblazer Gala

8th annual Net Zero Conference on net zero, zero carbon, and climate resilience
World-class education sessions on agriculture + buildings + energy + fashion + materials + personal care + technology + transit + waste + water
Inspiring keynotes from sustainability leaders worldwide
Interactive virtual Expo Hall + Exclusive In-Person Expo featuring industry-leading companies
Reserved pool of free, need-based tickets
Professional networking with industry leaders
Virtual tours of net zero buildings
Attendees from 40 U.S. states and 53 countries in 2020
CEUs available for AIA, USGBC & LFA credential holders
Content on climate, carbon, energy, water, waste + transit
Join us in building a Net Zero Future for All!
Use code NZCCMP15 for 15% percent off any conference package!