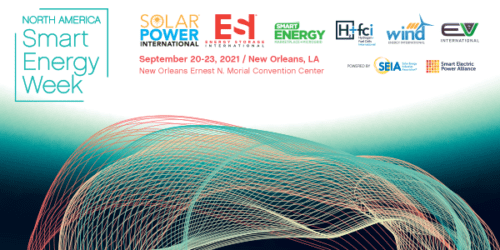 CANCELED: SPI, ESI & Smart Energy Week – 20-23 September 2021
The Clean Coalition was a partner organization for this conference set to take place 20 September - 23 September 2021, which has now been canceled due to Hurricane Ida.

UPDATE 9/3/21: In light of Hurricane Ida, SPI, ESI, and Smart Energy Week can no longer proceed in New Orleans in-person and will be canceled.
The Clean Coalition is a partner organization for SPI, ESI & Smart Energy Week, which will take place in New Orleans, LA on 20-23 September 2021.
It's not just a solar show anymore. SPI, ESI & North America Smart Energy Week is the largest event in North America for the renewable energy industry, including solar, storage, smart energy, wind, hydrogen & fuel cells, geothermal, and EV infrastructure. Anchored by the flagship event, SPI, North America Smart Energy week brings together an extensive alliance of renewable energy leaders for multiple days of networking, education, and innovation that moves the industry forward. SPI, ESI & North America Smart Energy Week, has become the center of integration for the wider energy industry – with Energy Storage International (the largest energy storage event in North America), Smart Energy Marketplace + Microgrid, Hydrogen + Fuel Cells International, EV International, and Wind Energy International.
Click here for more information
SPI sets the standard for solar events as the fastest growing and largest solar show in North America as recognized by Trade Show Executive and Trade Show News Network. SPI has also been among the Gold 100 for nine years running and named the 2017 "Best Use of Technology" and the 2016 "Stickiest Show Floor" by Trade Show Executive for the innovative ways in which attendees stay engaged. It's the only solar and storage event to receive such a distinction.
The health and safety of our attendees, exhibitors, and stakeholders is our number one priority. This year, there are multiple ways to join us.
Solar Power International, Energy Storage International, and North America Smart Energy Week is the premier business-to-business event for professionals in the solar energy, energy storage, smart energy, hydrogen and related fields.
More than 19,000 energy industry professionals attend, including 1,000+ international attendees.
More than 700 leading manufacturers, service providers, and vendors on the expo floor.
Multiple opportunities for power-packed ROI that will help you grow, learn, connect, and compete.
View the 2019 list of attendees.
Click here for more information