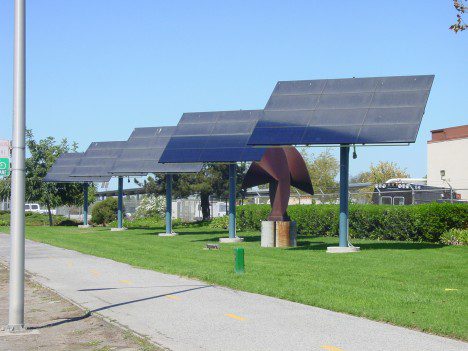 Palo Alto continues effort to spur local renewable generation
Palo Alto CLEAN provides attractive opportunities for local renewable energy deployment.
On May 27, the City of Palo Alto made clear its commitment to local renewable generation. The City Council voted to preserve Palo Alto CLEAN's existing pricing of 16.5 cents per kilowatt-hour and to provide several enhancements to the program.
Enhancements include the creation of a 3 megawatt (MW) tranche for non-solar renewables (in addition to the 3 MW solar tranche) and offering a 25-year term option on top of the existing 20-year term.
The leadership of Councilmember Pat Burt, who led the motion that was supported in a 6-2 vote, was critical in securing this win for supporters of local renewables. Commissioner Tom DuBois was also key in seconding the motion, with proactive support provided by Commissioners Marc Berman and Cory Wolbach. A fifth supporting vote was necessary for the motion to pass, which received support from both Mayor Karen Holman and Vice Mayor Greg Schmid. City Manager Jim Keene also offered favorable commentary that was essential to the mission.
Additional support was provided from a multitude of stakeholders who joined Craig Lewis, Executive Director of the Clean Coalition, in voicing compelling comments to the Council, including:
Troy Helming, CEO of Pristine Sun
Walt Hays, community and environmental leader
Jon Foster, Utilities Advisory Commissioner
Sven Thesen, Unitarian Universalist Church of Palo Alto representative
Sandra Slator, community and environmental leader
Vanessa Warheit, Unitarian Universalist Church of Palo Alto representative
Cedric de La Beaujardiere, Palo Alto anaerobic digester
Palo Alto Chamber of Commerce Board Member Jon Kiya, environmental leader Jeralyn Moran, and green building developer Mila Zelkha were also on hand in support of Palo Alto CLEAN and dedicated their three-minute speaking allocations to the cause.
Through Palo Alto CLEAN, there are attractive opportunities for renewable energy deployment. The next step is to get local renewable energy projects built. The Clean Coalition has been heavily engaged in this effort – designing and coordinating the development of a request for proposal to develop solar canopy projects on the top level of five City-owned parking structures – and will continue to support the deployment of local renewables in Palo Alto. Stay tuned for future updates in the Clean Coalition's newsletter and blog.