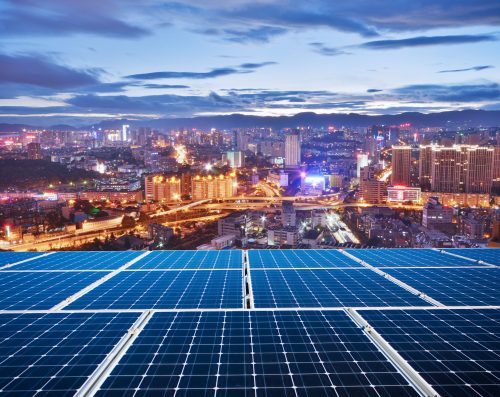 Rooftop solar is much more than just home solar
Local solar includes commercial-scale deployments, a vastly underserved market that we need to unleash.
We recently wrote about a Vibrant Clean Energy study that used a sophisticated model to show what we already knew at the Clean Coalition: despite the economies of scale enjoyed by large-scale, remote energy generation, clean local energy projects can be more cost-effective.
That's because generating energy close to where it's used avoids the extra "shipping and handling" costs of expensive long-distance transmission lines.
The study's findings were a bit more nuanced and did not suggest that we should do away with remote energy generation and transmission lines; the most cost-effective overall strategy is a coordinated combination of large solar and wind farms with local solar+storage. But scaling up that local solar+storage is a key element of this strategy, one that can save Americans a whopping $473 billion while decreasing CO2 emissions by 95% by 2050.
Home solar is crucial …
What does this really mean?
In California and most of the US, rooftop solar has almost become synonymous with home solar. Our rooftop solar policies, like net energy metering (NEM), have focused on this market segment — with good results in states like California, which in 2019 surpassed 1 million solar roofs, many of them on homes.
A recent LA Times article covering the Vibrant Clean Energy study continued this trend, suggesting that the savings might be achieved by installing solar+storage "at homes across the country" and encouraging readers to stop thinking of rooftop solar as a "niche product for wealthy homeowners." Utilities and regulators, the article suggested, could "help people put solar panels on their roofs and batteries in their garages wherever it made economic sense."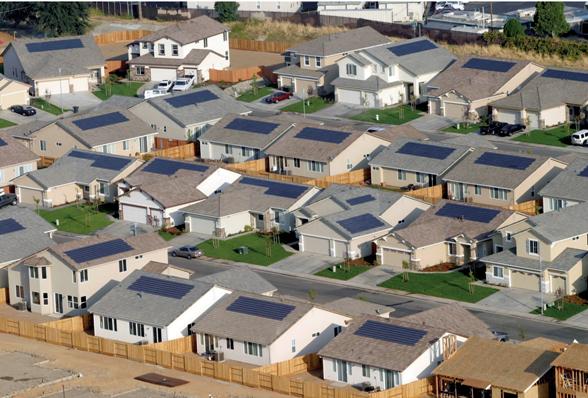 Home solar and batteries are indeed key to achieving our clean energy goals — and their benefits go beyond just generating cost-effective energy locally, creating local jobs, and providing resilience. Solar panels on people's roofs and batteries in their garages can be aggregated to form virtual power plants (VPPs), which provide important grid services, increase grid reliability, and lower power costs. Companies like Sunrun, Tesla, and Swell Energy have been partnering with customers and utilities to realize these benefits.
Still, as valuable as home solar+storage is, rooftop solar encompasses much more than panels on people's roofs.
And we need to stop ignoring commercial-scale solar
The commercial-scale solar+storage segment, or wholesale distributed generation (WDG), is a woefully underserved market in California and throughout the US. This is the market segment that propelled Germany to become a global solar leader — far surpassing California by 2012, despite California having 70% better solar resource.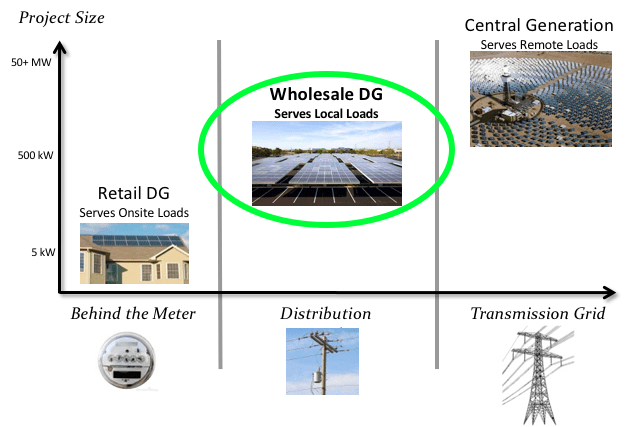 Along with home solar, this market segment has vast untapped siting potential. The Clean Coalition's Solar Siting Surveys, which assess the technical siting potential for commercial-scale solar, have found significant siting potential even in dense urban areas — on built environments such as rooftops, parking lots, and parking structures.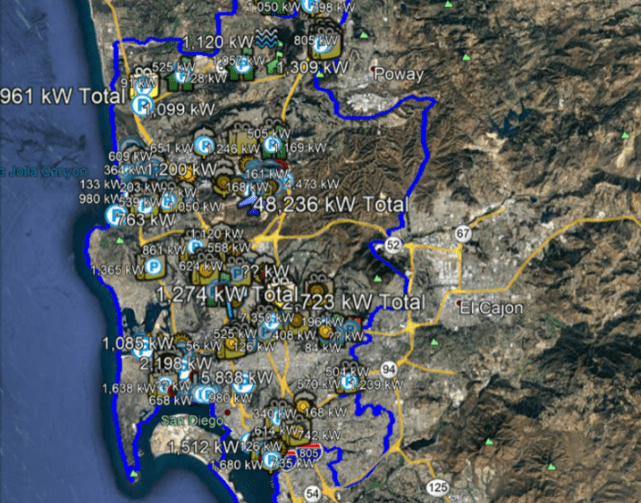 In addition to providing the economic, environmental, and resilience benefits of home solar+storage, commercial-scale projects democratize access to clean local energy by giving more parties the opportunity to participate — not just homeowners or large corporate entities.
Schools, fire stations, small businesses, municipal buildings, and many others can host solar installations paired with batteries, benefitting entire communities.
The Clean Coalition's work with the Santa Barbara Unified School District (SBUSD) provides one example. The SBUSD recently approved a contract with Engie Systems for Solar Microgrids at six school sites and standalone solar at another eight sites. Via a 28-year power purchase agreement (PPA), the District will reap massive benefits in guaranteed bill savings from the deployments, while enjoying an almost equivalent amount of free resilience value from the Solar Microgrids. In addition to being community centers spread throughout the area, during emergencies the schools can serve as sheltering sites for the community.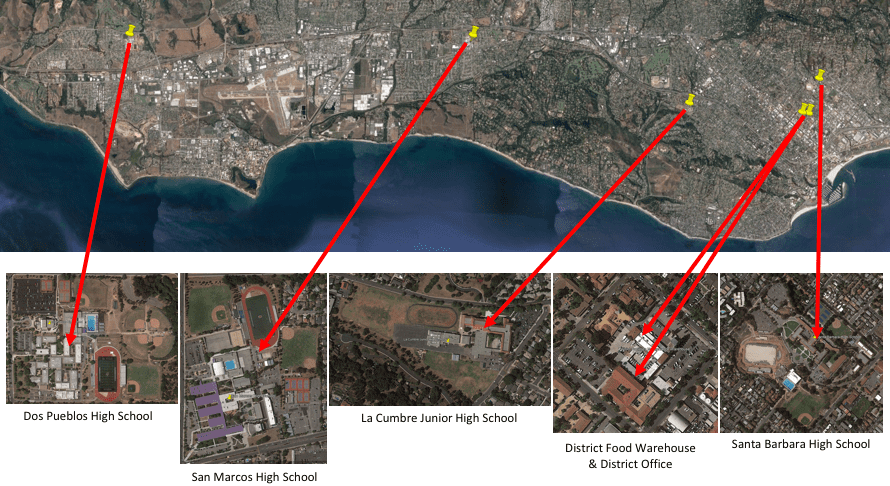 The policy and market barriers to commercial-scale solar
What's stopping the commercial-scale solar market from taking off?
Existing policies have focused primarily on large-scale renewables and small, customer-sited renewables — ignoring the commercial-scale segment. NEM works well for rooftop solar on single-family homes or other owner-occupied properties. But NEM is not well suited to commercial-scale solar for several reasons: commercial properties are often not occupied by their owners; many of these properties have split meters; and the electrical load of many commercial-scale sites, such as parking lots, is smaller than their generating capacity.
We can overcome these barriers with a cost-effective Feed-In Tariff (FIT), a standardized, long-term, guaranteed contract that allows commercial-scale energy projects to sell power to the local utility or other load-serving entity. A well-designed, market-responsive FIT, such as the one the Clean Coalition designed for the City of San Diego, includes streamlined interconnection as well as a Dispatchability Adder to incentivize energy storage.
Direct Relief, one of the largest disaster recovery and supply nonprofits in the world, provides an example of why we need FITs. The organization installed a microgrid to ensure that its headquarters in the Santa Barbara, California area never loses electricity for its temperature-sensitive, life-saving medical supplies.
But NEM and other behind-the-meter constraints limited Direct Relief to 320 kilowatts (kW) of solar, even though its built environments can support 1,133 kW, almost four times that amount.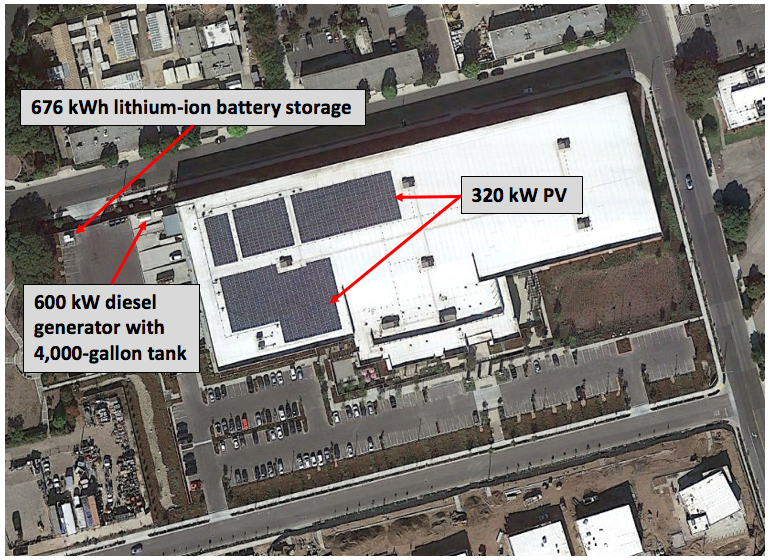 A FIT would allow Direct Relief to deploy more solar+storage, so the facility could keep more of its electrical load online for longer during an outage — while also providing additional resilience to the larger community, which Direct Relief would like to do as part of its disaster-relief mission.
The final barrier: How we think about rooftop solar
Besides policy and market barriers, there's another barrier that limits clean local energy deployments.
We need to get beyond thinking that solar (and storage) is just for wealthy homeowners. And we need to get beyond thinking it's just for homes.
While home solar is a big part of the equation, focusing on home solar alone means leaving significant local solar potential on the table. We need utility-scale solar and we need home solar. It's time we also include commercial-scale solar, and storage, in our efforts to meet our clean energy goals.