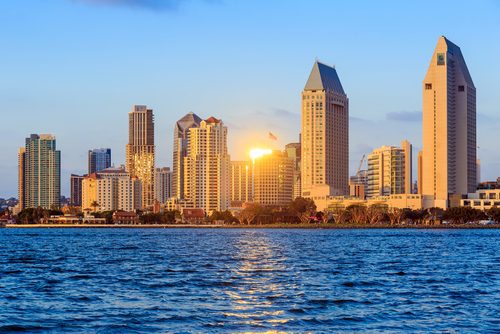 San Diego SEIN Initiative staged to help the City source 25% of its electricity from local renewables
The SD SEIN will deliver an unparalleled trifecta of economic, environmental, and resilience benefits to the City of San Diego.
This year, the Clean Coalition partnered with the City of San Diego on the City's Solar Energy Innovation Network (SD SEIN) Initiative. The Initiative's primary goal is to source 25% of the City's total electricity consumption from local renewables by 2035, within City boundaries.
This SD SEIN goal will go a long way toward fulfilling San Diego's broader goal of 100% renewables by 2035 and will deliver an unparalleled trifecta of economic, environmental, and resilience benefits to the City.
Pathways to achieving 25% local renewables in San Diego
To get to 25% local renewables by 2035, San Diego will need to unleash an underserved market segment: wholesale distributed generation (WDG). WDG refers to distributed energy generation, often commercial-scale solar, that interconnects to the distribution grid and serves local loads while avoiding any use of the transmission grid.
The Clean Coalition determined that the following approaches are necessary for the SD SEIN Initiative's success.
Surveying the City's solar potential
The Clean Coalition conducted a Solar Siting Survey (SSS) to identify the solar siting potential in San Diego. The Solar Siting Survey identified approximately 500 megawatts (MWac) of technical solar siting potential for commercial-scale solar systems of at least 1 MWac on built environments within the City.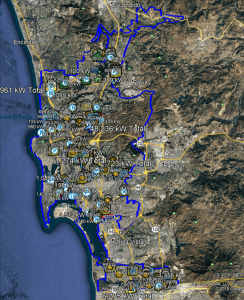 More than 75% of this solar siting potential is on parking lots and parking structures, which are often overlooked as siting opportunities. In total, this survey identified enough local solar capacity to fulfill the average power needs of about 500,000 homes during peak solar production hours.
San Diego has even more commercial-scale solar siting potential than was identified in this survey. If a smaller minimum project size of 500 kilowatts (kW) were considered, the Clean Coalition expects that the technical solar siting potential in San Diego would increase to about 1 GW; this would double again to 2 GW if considering projects as small as 100 kW.
Unleashing wholesale distributed generation with a Feed-In Tariff
Showing the potential for commercial-scale solar within San Diego was just the first step. To achieve the City's goal of 25% local renewables by 2035, the Clean Coalition designed a Feed-In Tariff (FIT) — the only approach that has proven effective at unleashing the WDG market. The FIT is currently in draft form and is being reviewed by the City.


An important component of the FIT is Market Responsive Pricing (MRP), which allows the price paid under the FIT for both solar and storage to adjust based on market response. This ensures that the optimal price is paid and avoids these potential issues:
Prices set too high will ensure rapid development of local renewable energy capacity but will result in less clean energy produced for a given budget or cause unnecessary upward impact on electricity rates.
Prices set too low will not attract the market to develop the desired amount of local renewable energy capacity.
The San Diego FIT design made specific recommendations for project eligibility. The generating resource must be new and should be located entirely within the City of San Diego; all technologies that are compliant with California's Renewables Portfolio Standard (RPS) requirements should be eligible to participate; and the maximum project size should be set at 3 MW.
The FIT also includes a Dispatchability Adder to make renewable energy available whenever needed instead of only when the sun is shining or wind is blowing.
Getting to 25% — in San Diego and beyond
The Clean Coalition's Solar Siting Survey and FIT design are powerful tools for maximizing cost-effective local renewables and energy storage. These tools will unleash WDG in San Diego and provide a blueprint for communities nationwide to do the same in the most cost-effective manner possible.