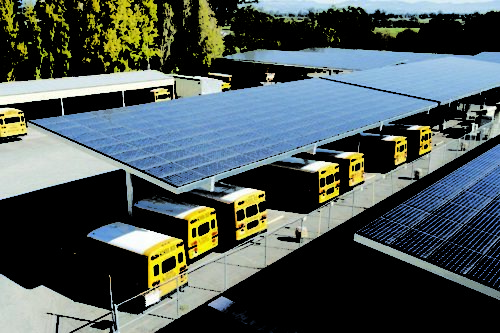 Solar Microgrids are contagious
Progress on the Montecito Community Microgrid Initiative is leading to more Solar Microgrids throughout the region.
There's a saying in the solar industry, "Solar is contagious." That refers to the way residential solar tends to spread in neighborhoods: if you install solar panels on your roof, the likelihood increases that your neighbors will also go solar.
Now, the trend is also beginning to play out for Solar Microgrids, which can be installed at a home, a business, or a critical community facility such as a school or fire station. Solar Microgrids can island from the larger grid during a power outage — whether it's caused by a natural disaster, a Public Safety Power Shutoff (PSPS), or any other event — providing indefinite renewables-driven backup power for critical community facilities. Of course, during regular grid operations, Solar Microgrids continue providing the many economic benefits of clean local energy to their communities, as well as environmental benefits that accrue locally and globally.
The current Solar Microgrids boom in a region of Southern California illuminates the trend.
Highlighting the need for resilience in the Goleta Load Pocket
In December 2017, the month-long Thomas Fire burned over 300,000 acres — devastating communities in Southern California's Ventura and Santa Barbara Counties, claiming two lives, and destroying over 1,000 structures. The subsequent debris flow in January 2018 took 23 lives and rendered 400 homes completely uninhabitable, with 100 being entirely swept away.
These disasters demonstrated the need for energy resilience in the region, which in addition to being disaster-prone is also extremely grid-constrained. The devastated areas are located within the Goleta Load Pocket (GLP), a region that spans 70 miles of coastline and encompassing the cities of Goleta, Santa Barbara (including Montecito), and Carpinteria.

The GLP lies at the end of the transmission grid and is currently highly transmission-dependent, with little energy generation happening within the GLP. In other words, the region gets almost all of its energy from one 
set of transmission lines that are hung on the same transmission towers and routed through 40 miles of mountainous terrain — making the GLP alarmingly transmission-vulnerable.
Turning adversity into opportunity
The 2017 and 2018 disasters made the Montecito community all too aware of the need for resilience. The good news is that the area's constraints and challenges make it the perfect location for the comprehensive Goleta Load Pocket Community Microgrid (GLPCM), which will bring the area an unparalleled trifecta of economic, environmental, and resilience benefits.
To achieve this vision, the Clean Coalition is staging a number of Solar Microgrids in the area as building blocks for the larger GLPCM. Some of the first of these are being planned as part of the Montecito Community Microgrid Initiative (MCMI), which the Clean Coalition has been staging with the MCMI Steering Committee and the larger community since 2018. With their awareness of the area's vulnerabilities, many community members have embraced these efforts.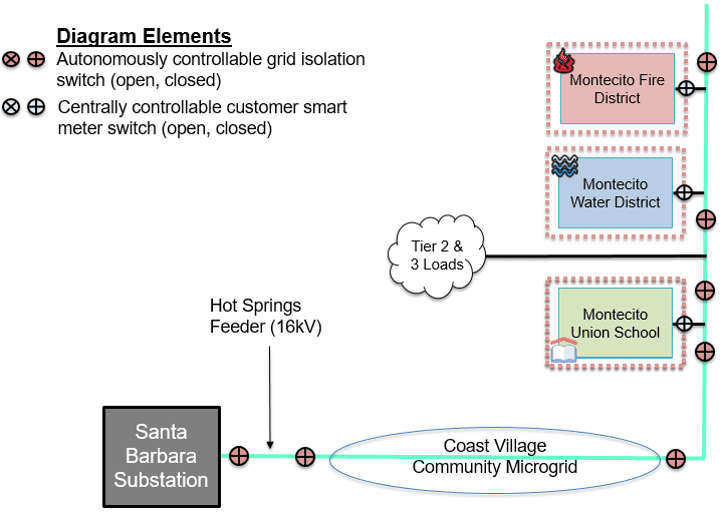 The initiative began with three critical community facility Solar Microgrids in Montecito's Upper Village: the Montecito Fire Protection District, the Montecito Union School, and the Montecito Water District. These facilities were chosen in part because they are all connected along the Hot Springs electric feeder; in addition, they are all critical to the community. Fire and water departments are, of course, key during disasters — and schools serve as community centers that are often used as emergency shelters during disasters, as well as during planned power shutoffs.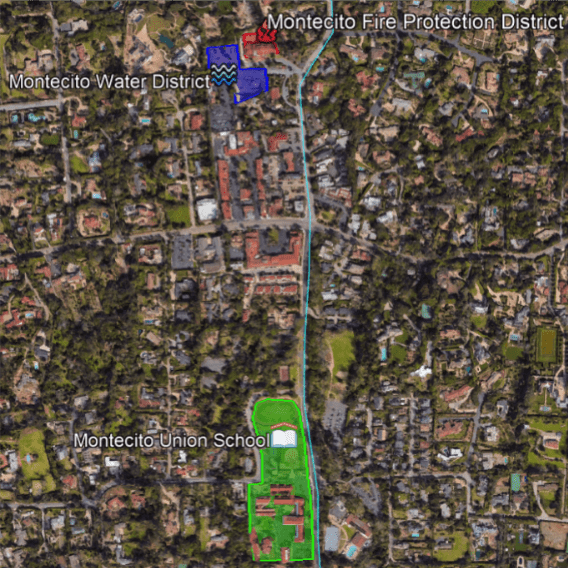 Making major progress on Montecito Solar Microgrids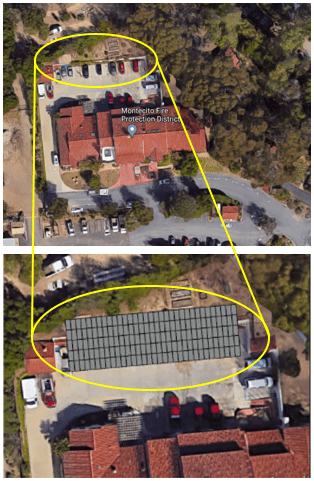 The Montecito Fire Protection District and the Montecito Union School have already made significant progress on their Solar Microgrids. Both facilities have selected developers and have project completion dates of early to mid-2021.
Montecito Fire Protection District Solar Microgrid specifications:
Developer: Bright Future Solar Energy
Solar: 64 kW-DC fixed high-clearance solar shade structure
Battery energy storage: 132 kWh
Integration of existing diesel generator
20-year PPA + $10,000 annual fee
Estimated project completion date: February 2021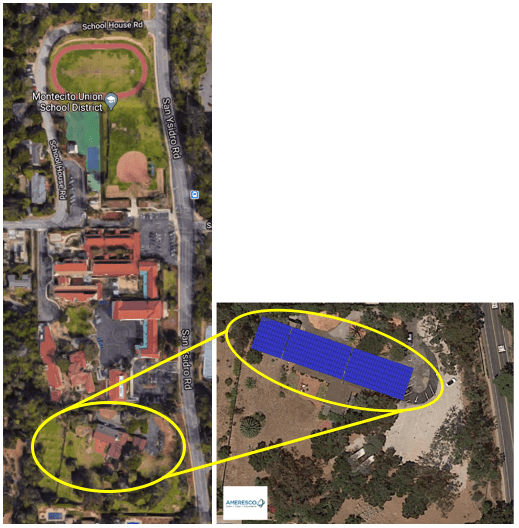 Montecito Union School solar specifications:
Developer: Ameresco
Solar: 177 kW-DC solar shade structure
No battery energy storage or generators; resilience to be considered later
25-year PPA with over $40,000 in annual bill savings
Estimated project completion date: Summer 2021
The Clean Coalition also worked closely with the Montecito Water District throughout 2018-2019 and had staged a microgrid developer for them. Progress on this project has since stalled, but it is anticipated that once the Montecito Fire Protection District and the Montecito Union School projects are operational, community pressure will move the Water District's Solar Microgrid forward.
Showcasing a Residential Solar Microgrid in Montecito
A local resident who became aware of these core MCMI successes approached the Clean Coalition to stage a Montecito Residential Solar Microgrid Showcase on their property. This project is moving forward and is expected to be operational by the end of January 2021. The showcase is located just north of the Montecito Fire Protection District and is electrically connected to the same electrical feeder — the Hot Springs Feeder — as all three Upper Village critical community facilities.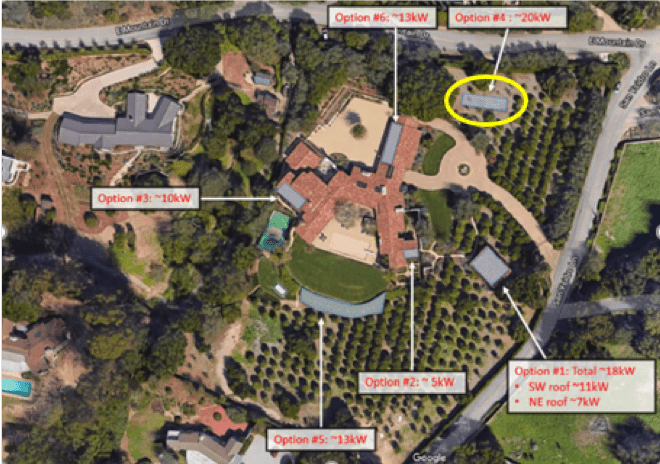 Montecito Residential Solar Microgrid Showcase specifications:
Developer: Emergent Microgrid
Solar: 33.74 kW ground-mounted solar (final location chosen is circled in yellow)
Battery energy storage: 60 kWh
Tier 1-3 load prioritization based on the Clean Coalition's value-of-resilience (VOR123) methodology
Estimated project completion date: Month-end January 2021
Spreading beyond Montecito
In an testament to the contagious nature of Solar Microgrids, the Montecito successes have led to significant progress on additional Solar Microgrids in the GLP — including for the Santa Barbara Unified School District (SBUSD). The SBUSD Board unanimously approved a massive Solar Microgrid initiative in September 2020 that yields solar at 14 sites and full Solar Microgrids with VOR123 resilience at 6 of them.
The Clean Coalition conducted a robust feasibility study for the SBUSD, designed and administered a state-of-the-art request for proposals (RFP) process, and is now supporting the contracting of groundbreaking 28-year fixed-rate power purchase agreements (PPAs) and Performance Guarantee Agreements (PGAs) for six Solar Microgrids spread throughout the Santa Barbara region. Eight other school sites will install solar parking canopies and solar shade structures. This won't cost the District anything; in fact, the SBUSD will enjoy millions of dollars in guaranteed bill savings, with almost equal value in resilience benefits for free.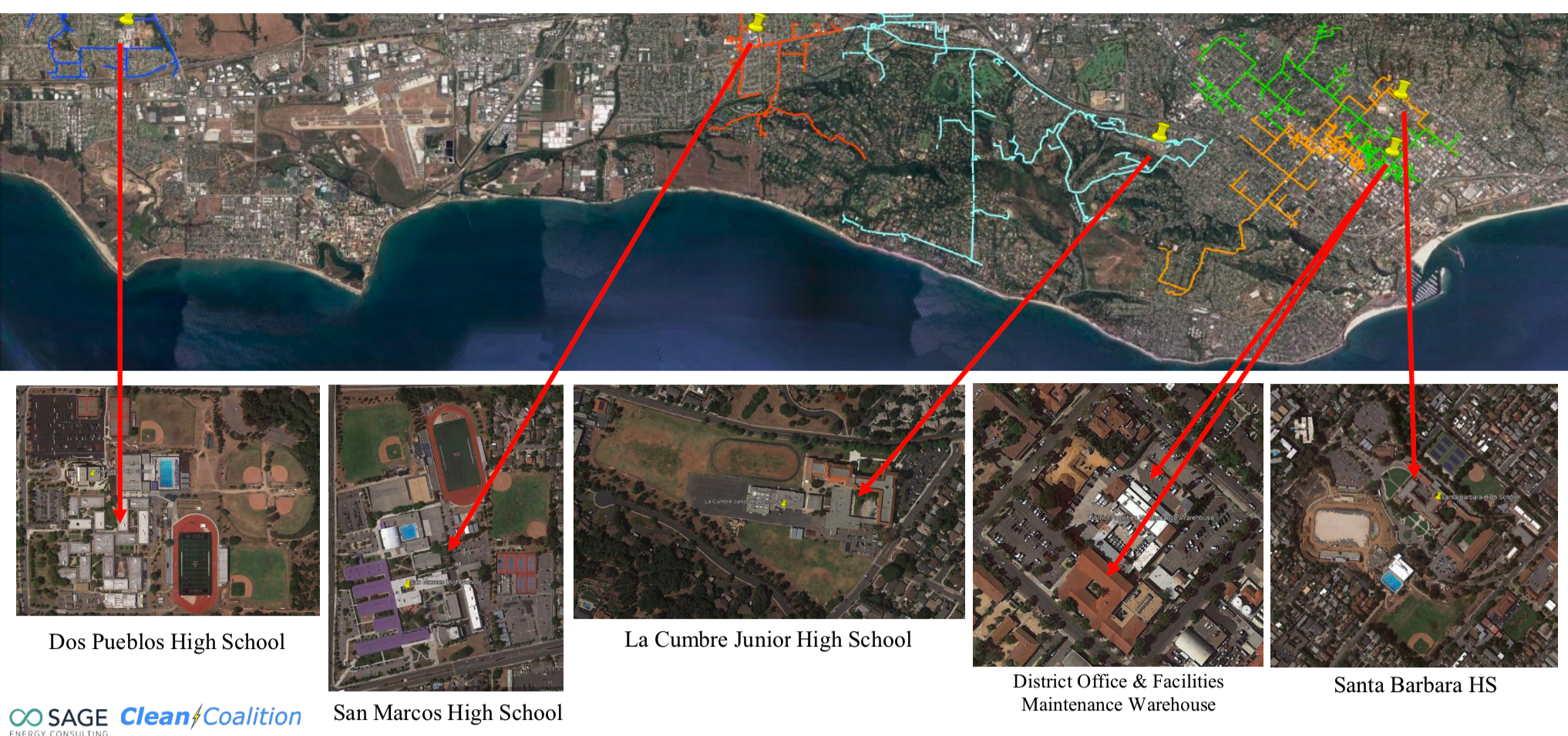 Santa Barbara Unified School District Solar Microgrids specifications:
Developer: Engie
Solar: Approximately 5 MW solar carports and solar canopies across 14 sites
Battery energy storage: Approximately 5 MWh across the 6 Solar Microgrid sites
Solar will offset 90% of electricity use across the 14 sites
28-year fixed-price PPA (0% price escalation over the 28 years)
$7.78 million in guaranteed bill savings with significant additional economic upside
$6.47 million in value-of-resilience benefits for free
Estimated project completion date: August 2021 – January 2022
The profound success of the Montecito Solar Microgrids and the SBUSD Solar Microgrids has set the stage for the Clean Coalition to expand on the development of Solar Microgrids across additional schools, colleges, and municipalities throughout the GLP. Target sites include:
Carpinteria Unified School District
Goleta Union School District
Hope Elementary School District
Cold Spring School District
Vista del Mar Union School District
Santa Barbara City College
University of California Santa Barbara
County of Santa Barbara
City of Santa Barbara
City of Goleta
City of Carpinteria
While the Goleta Load Pocket is an ideal site for these deployments because it is so disaster-prone and transmission-constrained, Community Microgrids and Solar Microgrids should be deployed throughout California — and beyond — to deliver unparalleled economic, environmental, and resilience benefits to communities everywhere. The GLPCM, the SBUSD Solar Microgrids, and the MCMI are providing models that can be replicated anywhere.