The first Advanced Energy Rebuild in Santa Rosa, California
Using Sonoma Clean Power's $17,500 Efficiency and Electrification Incentive package to rebuild a residence after the 2017 Tubbs Fire.
As a retired California general contractor, Barry Hirsch understands how building systems work — and what is cost effective. So when he looked at the "All Electric Home with Solar + Storage" incentive package being offered by Sonoma Clean Power (SCP) as part of their Advanced Energy Rebuild program, Barry recognized that it would provide an excellent opportunity to upgrade and modernize his Santa Rosa home, which was destroyed in the 2017 Tubbs Fire.
Building back right
Barry first heard about the Advanced Energy Rebuild program when he attended a presentation by Geof Syphers, CEO of SCP. Geof's description of the new program inspired Barry to use the full $17,500 incentive being offered to upgrade the home his family was planning to rebuild.
Barry also made the decision not to install any natural gas in his family's new home — because, as he said, "it's the right thing to do." Eliminating natural gas from our homes and gasoline from vehicles and garages results in a safer, cleaner environment. Additionally, eliminating the greenhouse gas emissions associated with natural gas helps address climate change, which is an underlying cause of the longer, more dangerous fire season in California.
As it turned out, Barry was doing more than helping the environment. By using an all-electric suite of appliances for his home, Barry saved money and developed a state-of-the-art home that is more comfortable, far more efficient, and much safer than the home his family lost to the fire.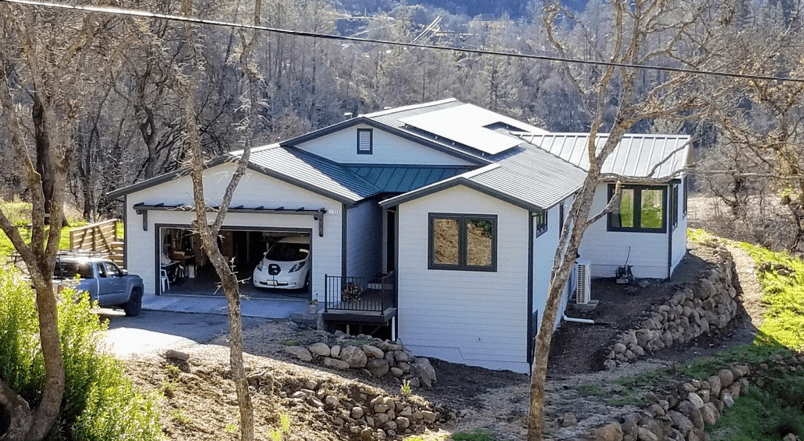 Barry was also able to make his family's new home zero net energy, and even zero carbon, by not just eliminating natural gas but also raising the home's efficiency to +20% above the current energy and efficiency requirements of California Building Code Title 24, as well as adding solar and energy storage. Having energy storage means Barry's family will have power for their essential appliances and needs even during a grid outage, when the solar+storage system will continue powering critical loads — such as the refrigerator, microwave, and master bedroom circuit. This maintains livability without relying on the power grid and makes the home more resilient in the face of future wildfires and other grid disruption events.
Efficient, safe appliances
Barry's mini-split heat pump heating, ventilation, air conditioning unit, and heat pump water heater provide ultra-efficient heating, cooling, and water heating. The rooftop solar system provides more power than is needed for all the home's energy.
For cooking, Barry chose an ultra-fast and accurate fully electric induction range. Professional chefs and restaurants around the world are switching to induction cooking — which has been popular in Japan and China for many years — because of its speed, precision, and safety. Induction cooktops boil water in a little over four minutes — that's three minutes faster than electric coils (about seven minutes), and four minutes faster than gas ranges (about eight minutes). Induction cooktops are extremely energy efficient because they heat only the pan or pot they are using, rather than the cooktop surface or the air around it. In fact, you can place a newspaper between a pan and the induction cooktop burner while you cook, and it will not burn. For homeowners evaluating whether to make the switch to induction cooking, SCP is currently lending out portable induction cooktops to test the technology.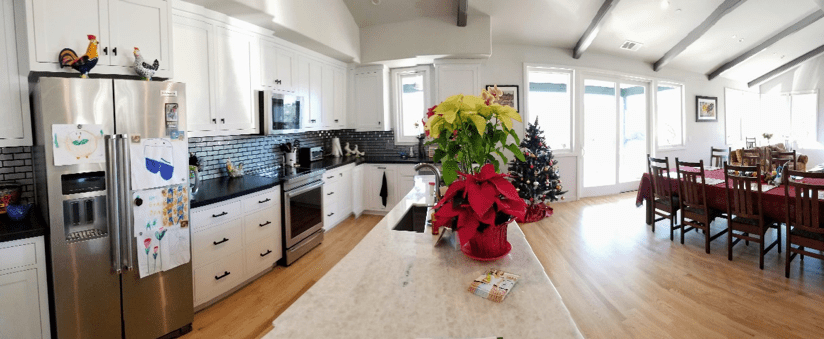 Renewable energy system
Barry's solar panel array is projected to fully power the entire home, with energy left over to charge two electric vehicles (EVs) using the free EV chargers provided by SCP's GridSavvy program. If there is excess energy beyond what the home and EVs use, Barry's family will get a check each year from SCP.
According to the detailed financial analysis provided by his solar installer, Barry's home utility savings are anticipated to average $3,840 annually, for a total savings of $95,991 over 25 years. His family's transportation "fuel" costs will be greatly reduced and potentially even eliminated by charging their electric vehicles with excess rooftop solar. In addition to keeping their critical loads online during power outages, the LG Energy battery storage system benefits the family during normal grid operations: it stores extra solar-generated energy during the day so the family can use that energy at night.
Resilient, cost-effective design
Barry's home demonstrates fire-resilient design with non-flammable concrete fiberboard siding and special fire-rated vents to the attic. The vents automatically seal in the event of a fire, which prevents flames and hot embers from blowing into the attic.
Barry's home used the following specifications to rebuild better:

The incentives from SCP's Advanced Energy Rebuild program covered the cost of Barry's electrical appliance upgrades. With their electric cars, all-electric appliances, and solar+storage system, the Hirsch family's bills for energy and transportation will be almost zero going forward.
Barry and his wife moved into their new home in October 2018. Barry is now helping his neighbors rebuild their home, taking advantage of the full suite of Sonoma Clean Power Advanced Energy Rebuild incentives. He is willing to help you, too! You can contact Barry at bdh12188@gmail.com or 707-292-5896.