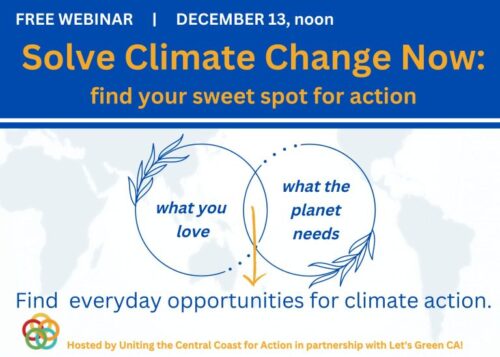 UCCA Webinar: Solve Climate Change Now – find your sweet spot for action – 13 December 2022
The Clean Coalition was a partner organization for this webinar, which took place on 13 December 2022 at 12pm.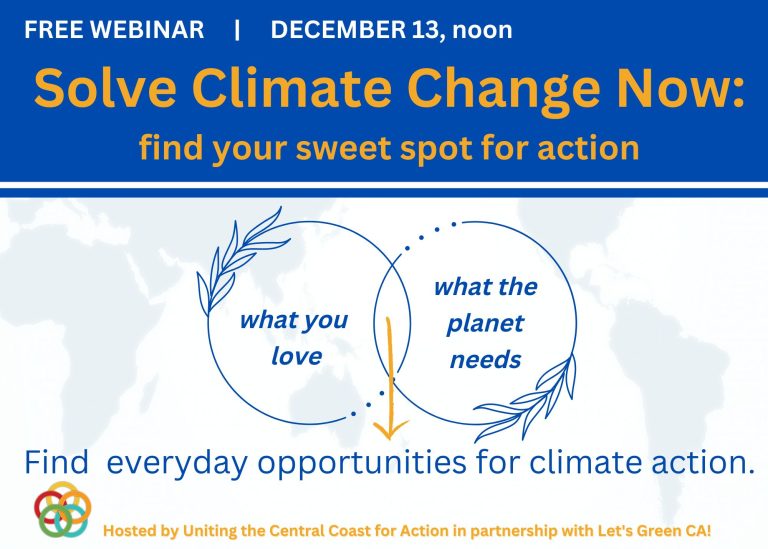 UCCA Webinar: Solve Climate Change Now – find your sweet spot for action
Tuesday, 13 December, 2022 at 12pm PST
Don't despair about climate change, and don't wait for someone else to act! Every one of us can be a part of solving climate change – no matter our knowledge, resources, available time, or where we live. Learn about the wide variety of opportunities we each have in our daily activities and how to connect what you love to do with climate needs and ways to make a difference.
Presenters:
Don Maruska: Silicon Valley entrepreneur, Climate Solver, and author of the new book Solve Climate Change Now: Do What You Love for a Healthy Planet
Don will explain the "attraction method" which taps your self-motivation to sustain your efforts for a healthy climate. As you, your family members, friends, coworkers, and community members engage, you will mobilize the support necessary to turn awareness into actions and advocacy.
Laura Albers: Extensive experience in local nonprofit organizations and collaborative partnerships, currently the Program Manager of SLO Climate Coalition's ResilientSLO platform
Laura will lead an interactive discussion about how each of us can take action to help our climate – and how to have fun doing it. Discover how you can be part of the Resilient Central Coast Campaign to activate 500,000 Central Coast households to cut emissions in half by 2030.