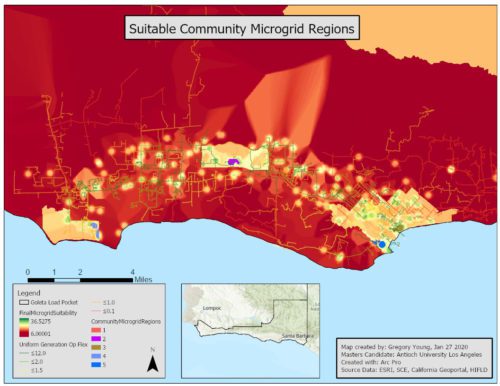 Webinar: Identifying optimal locations for Community Microgrids – Wednesday, 18 Mar 2020 at 11am PT
This one-hour webinar took place on 18 March 2020.
Community Microgrids represent a new approach for designing and operating the electric grid — while providing our communities unparalleled economic, environmental, and resilience benefits. However, current processes for identifying potential Community Microgrid sites are time-consuming and involve complex groups of stakeholders.
In this webinar, the Clean Coalition's Gregory Young demonstrates an innovative methodology he has developed that simplifies this process.
Click here to watch this video on YouTube.
Gregory's paper on his methodology can be downloaded here (PDF).
The Community Microgrid Suitability Model:
Identifies the best locations for Community Microgrids within a given study area using a Geographic Information System (GIS) approach known as suitability modeling.
Automates a significant part of the process for identifying prime Community Microgrid sites.
Decreases the time it takes to identify these sites.
Model results can be based on any combination of the following criteria:
Proximity to critical community facilities such as fire stations, police stations, hospitals, urgent care centers, and sheltering sites.
Location within disadvantaged and/or low-income communities.
Proximity to electrical feeder segments that have a high potential for solar PV integration.
Using the real-world example of the Goleta Load Pocket, a disaster-prone, transmission-vulnerable 70-mile stretch of Southern California coastline, this webinar demonstrates:
How the Community Microgrid Suitability Model can be used to identify optimal Community Microgrid sites.
How this process can be replicated in any neighborhood, city, or county where the relevant data are available.
How the model can assist municipalities in finding a modern solution to power outages, while also serving communities of concern that are on the front lines of the climate crisis.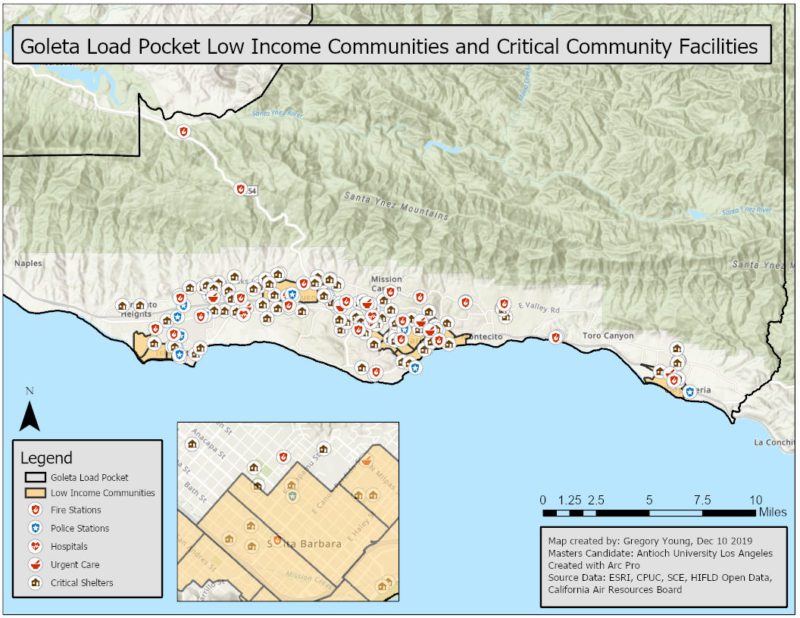 About the model
While working toward his graduate degree in Urban Sustainability, Gregory is also obtaining a certificate in integrated Geographic Information Systems (GIS). By utilizing ArcGIS Pro, a GIS software commonly used for analyzing spatial data, Gregory has been able to semi-automate the process of locating suitable regions for Community Microgrid development.
Within ArcGIS Pro, Gregory used a visual programming language known as ModelBuilder, which is used for building geoprocessing workflows. Within ModelBuilder, a model is represented as a diagram that chains together sequences of processes and geoprocessing tools, using the output of one process as the input to another process.
When performing a specific workflow known as Suitability Modeling within ModelBuilder, Gregory used a variety of raw datasets as starting inputs to the workflow. Then by using multiple geoprocessing tools, these datasets were manipulated to display values in the form of a heatmap showing favorable Community Microgrid locations.
An important feature of this tool is that its workflow can be replicated easily for any county, city, or neighborhood that is served by a load-serving entity who has made their Integration Capacity Analysis (ICA) publicly available.
Presenter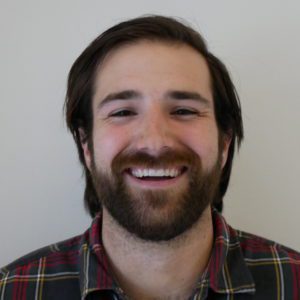 Gregory Young is a Program Associate at the Clean Coalition. He has worked with several nonprofits and community-based organizations in developing planning processes to help build resilience for disadvantaged populations. Universalizing local renewable energy resources has been an ongoing passion for Gregory, especially as more of the world's population transitions to urban environments. Gregory received a BA in Psychology at the University of Colorado Boulder and is currently pursuing an MA in Urban Sustainability at Antioch University in Los Angeles, with a focus on the world's dual challenges of climate change and inequality.