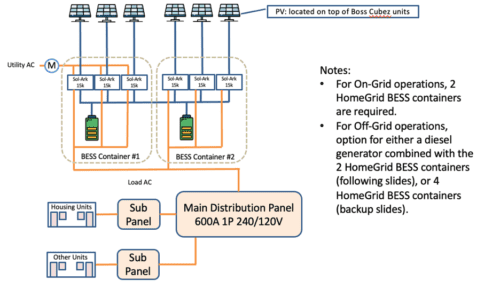 DignityMoves Santa Maria Solar Microgrid & Standardized Design
The Clean Coalition recently produced a standardized Solar Microgrid design for DignityMoves, a transitional housing organization.
DignityMoves Santa Maria Solar Microgrid & Standardized Design
In partnership with the DignityMoves organization, the Clean Coalition produced a Solar Microgrid design for transitional housing featuring standardization of the solar, energy storage, and load management elements, establishing a baseline for Solar Microgrids to be easily deployed across all types of modular housing facilities.
With the increasing frequency of disasters, awareness is growing quickly that energy resilience is vital for communities everywhere. The benefits of Solar Microgrids are also on full display, and at the very least, Solar Microgrids should be deployed at Critical Community Facilities (CCFs) to ensure unparalleled resilience for essential services during grid outages of any duration – along with delivering overall economic and environmental benefits.
The Clean Coalition recently completed a standardized Solar Microgrid design for a DignityMoves transitional housing facility that is anticipated to become operational in mid-2023, in Santa Maria, California. The Clean Coalition applied its long-standing Solar Microgrid Methodology to the DignityMoves transitional housing project coming to Santa Maria, with additional efforts to standardize a Solar Microgrid design in terms of solar, energy storage, and load management to maximize both bill savings and value-of-resilience (VOR). The standardized Solar Microgrid design utilizes the Clean Coalition's VOR approach ("VOR123") and achieves the following overarching features:
Provides a baseline Solar Microgrid design for any type of modular housing units & campuses, including of course for transitional housing facilities.

Allows for easy relocation, including to new "pop up" housing facilities that are increasingly being deployed, sometime only temporarily, to solve urgent homelessness crises while permanent solutions are developed.  
The standardized Solar Microgrid design enables a scalable and replicable solution that can benefit modular housing facilities everywhere by providing onsite clean energy that lowers energy costs and provides energy resilience. 
The Clean Coalition has immense appreciation for DignityMoves and its effective work in addressing homelessness.  And the Clean Coalition is grateful that the appreciation is mutual.  Elizabeth Funk, Founder & CEO of DignityMoves, stated that "the Clean Coalition has been amazing in helping us design an incredibly meaningful solution for clean energy and resilience at our transitional housing facilities. We have many new facilities on the way and are thrilled to replicate the Clean Coalition's Solar Microgrid design across our facilities."
The Clean Coalition facilitates Solar Microgrid and Community Microgrid projects that can be replicated anywhere. By showcasing the feasibility of these projects, and the vast potential for siting distributed energy resources in the built environment, we help proliferate clean local energy and community resilience. The Clean Coalition bases its work on concrete project experience – and helps to innovate policies that often impede these projects.  
In addition, based on the Clean Coalition's economic analyses, transitional housing sites can save hundreds of thousands of dollars in bill savings by deploying standardized Solar Microgrids, in addition to benefiting from the VOR.  In total, the Solar Microgrid at DignityMoves Santa Maria is anticipated to provide value of at least $700,000 – above and beyond the cost of the Solar Microgrid.
The remainder of this piece goes into the details of the DignityMoves Santa Maria Solar Microgrid feasibility study process and the resulting standardized Solar Microgrid design.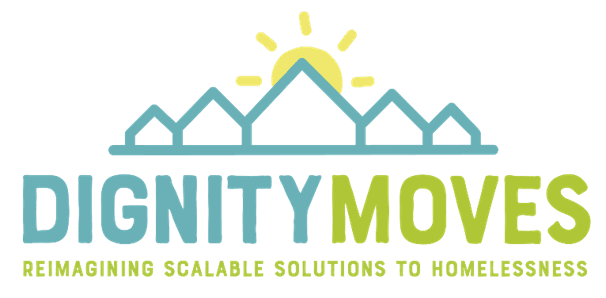 DignityMoves works to end homelessness in communities by building Interim Supportive Housing with rapid, cost-effective, scalable solutions. DignityMoves was founded by a group of concerned business leaders who are all members of Young Presidents Organization (YPO). Already frustrated with the state of unsheltered homelessness in communities, they pooled their collective expertise and resources to take a fresh look at the situation and find innovative solutions. Thus, at DignityMoves everyone gets the dignity of their own private space, and most importantly, exceptional services to provide the wrap-around support necessary to help clients make positive steps forward.
This project for DignityMoves is based on the Clean Coalition's established Solar Microgrid design and optimization methodology that features energy resilience for essential services. The resilience goal is to enable indefinite operations of the most critical loads, while keeping all loads operational for a significant percentage of time. This resilience would be provided when the grid is down for any reason, including from Public Safety Power Shutoff (PSPS) events, and more importantly, from actual disasters that require weeks or longer to restore grid service. The design will also include standardized replicability for the Solar Microgrid components utilizing the pre-manufactured & kitted "pop-up" housing structures, so that these Solar Microgrids can apply to all types of modular housing units. The Solar Microgrids will also reduce the DignityMoves energy costs at all locations.
The scope and deliverables for the Solar Microgrid project at the DignityMoves Santa Maria facility were as follows:
Optimize the DER mix to:

Achieve net zero energy.

Maintain Tier 1 (critical) loads during grid outages and potentially indefinitely.

Support Tier 2 (priority) loads as much as possible during grid outages, and whenever energy is plentiful, support Tier 3 (discretionary) loads too.

Preempt the use of diesel and any other fossil fuels for resilience.

Standardize the Solar Microgrid components for ongoing use with the pop-up housing units.

Maximize economic benefits. 

Assess and evaluate Solar Microgrid ownership & financing options, including cash purchase and Power Purchase Agreement (PPA) options.

Key deliverable: Presentations including the technical & economic analysis and recommendations. 
In order to complete the standardization of the Solar Microgrid components for the temporary units, the Clean Coalition conducted the following steps:
Worked directly with the architects and manufacturers of the pop-up structures and with seasoned solar installers to determine the most optimal method for installing rooftop solar panels during the initial assembly and then for relocating the solarized structures in an assembled form later. 

Assessed the solar generation potential per structure, per "block" and per site; including to determine approximate net zero percentages that are achievable.

Assessed an energy storage solution per standard block that can provide viable resilience to the Santa Maria site and then be relocated in a plug-and-play fashion. The aim is to standardize the energy storage solution similar to how the HVAC heat pumps are configured per block and will need to be easily moveable to future sites.

Recommended standardized Solar Microgrid kitting for all pop-up housing sites – at the unit, block, and site levels.
The Clean Coalition conducted this study by utilizing its proven methodology for analyzing energy resource and resilience solutions on behalf of communities, featuring the following five steps:
Step 1:  Load Profiles:

  Develop profiles for existing electricity loads over a relevant 12-month period and then adjust for expected changes due to anticipated EV charging, electrification of heating applications and other appliances, and new construction.  Also develop profiles for critical loads that need to be maintained for limited periods of time – and critical loads that need to be maintained indefinitely, regardless of grid outage durations.

Step 2: Resource Scenarios:

Investigate all possible onsite energy resource options that are technically viable for each site while optimizing the economic, environmental, and resilience objectives.  

Step 3: Site Layouts:

  Develop the site layouts to clearly illustrate recommended locations and sizing for all generation resources, locations for energy storage, and to detail locations of key electrical assets like the customer meter and critical loads.

Step 4: Economic Analyses:

  Analyze the total costs and economic benefits of each of the viable Resource Scenarios at each site.

Step 5: Reporting & Recommendations:  Present the results and recommendations via project review meetings, presentations, and reports.
These five steps are diagrammed below: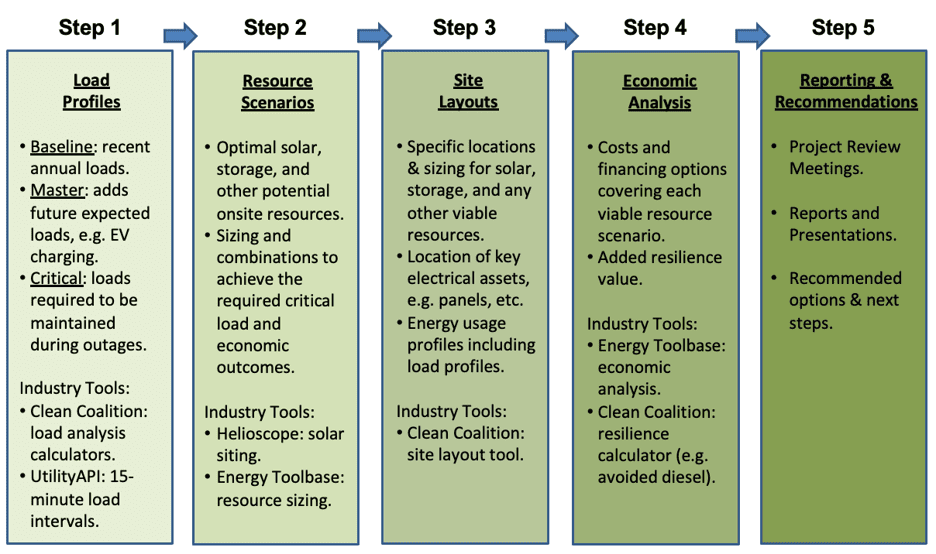 The DignityMoves Santa Maria site location is being designed with transitional housing that can be installed at one location then easily moved and re-installed at other locations. The standardized Solar Microgrid is designed to also be installed at one location, then easily moved and reinstalled at other locations along with the transitional housing units.
Following is the site plan for the DignityMoves Santa Maria location: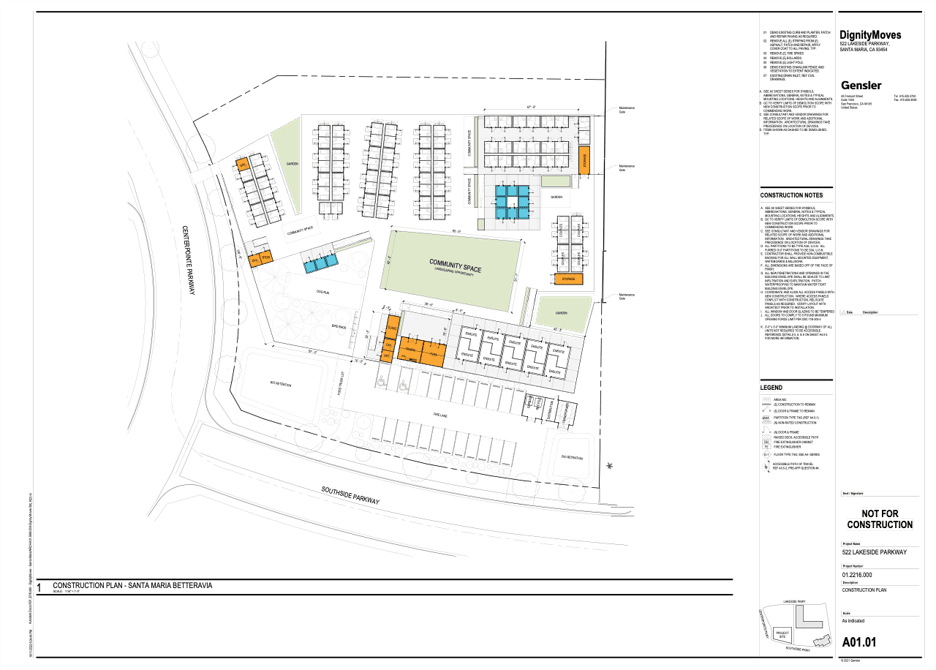 All the typical residential units will be provided by Boss Cubez, with the Ensuites provided by LifeArk along with the bathroom and shower units. The site will be 100% electric, and thus a Solar Microgrid that achieves net-zero can will eliminate the site's operational emissions. Construction for this site is planned to start in January or February 2023 and completed around June 2023, with the standardized Solar Microgrid components installed and operational along with the site completion.
Boss Cubez and LifeArk visuals for their housing are provided below, as examples: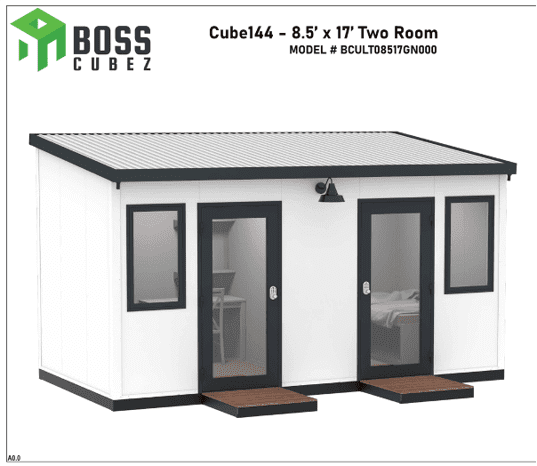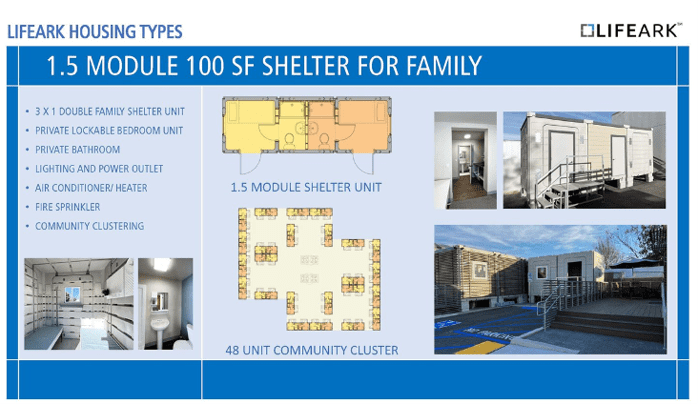 Project Results
Load Profiles
DignityMoves forecasted the Santa Maria total annual load to be approximately 333.97 estimated daily kWh, equaling 121,899 kWh annually. Thus, the DignityMoves Santa Maria load is projected to be roughly 58% of the total annual load for a related Clean Coalition project for the LifeMoves Mountain View site – see separate Clean Coalition project on LifeMoves Mountain View – and 58% of every 15-minute interval for LifeMoves Mountain View was then taken to form the DignityMoves Santa Maria Baseline Load Profile. This comparison of the two sites enabled the projected load for the planned Santa Maria site to be based on the actual load of the existing Mountain View site, thus achieving as much accuracy as possible in the load forecast for Santa Maria.

Note that there is no EV charging planned for the Santa Maria site, and thus EV charging profiles were not included in the Master Load Profile. However, the Clean Coalition strongly recommended specific Hot Water Heat Pumps for this site, and for all transitional housing sites, since they substantially reduce the amount of load required to heat water at any location – and thus helping achieve an optimal outcome for the sizing and cost of the Solar Microgrid while lowering the cost of energy used at a site by a significant amount.
The critical load tiers are defined as follows: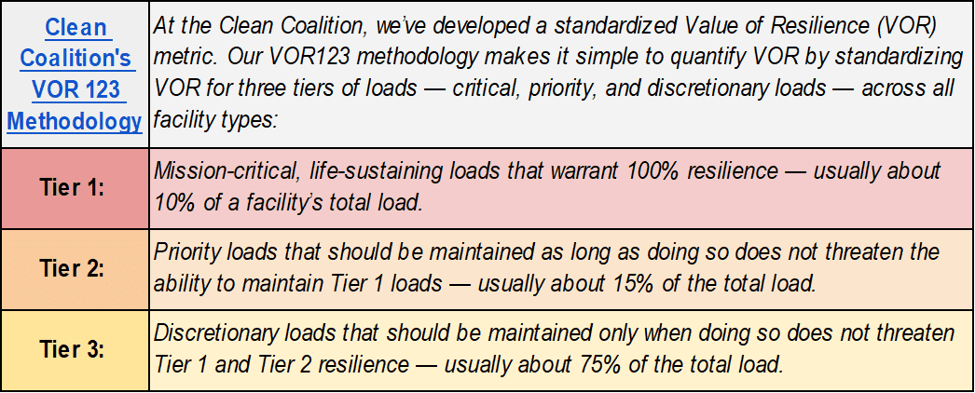 Similar to how the Baseline Load Profile was calculated for Santa Maria, the LifeMoves Mountain View Critical Load Profile was used as the basis for the Santa Maria site and includes the following critical loads: food and community services, bathrooms, restrooms, security lighting, exterior lights, office lights, reception lights, parking lot lights. Following is the required critical load tiering percentages as determined for LifeMoves Mountain View and applied to DignityMoves Santa Maria:

Note that for the DignityMoves Santa Maria scenario utilizing two Battery Energy Storage containers when on-grid, the total percentage of Tier 1 loads kept on indefinitely is 35%, so much higher than the 11.4% applied to LifeMoves Mountain View.
Standardized Resource Scenarios and Site Layout
The standardization design of the Solar Microgrid components for the transitional housing units at DignityMoves Santa Maria, and that applies to all similar transitional housing units, includes both an off-grid scenario with four HomeGrid battery containers (and an option for a diesel generator) and an on-grid scenario with two HomeGrid battery containers. The HomeGrid battery containers are a modular system that can be sized appropriately per site and easily moveable from site to site, as needed. The Solar kitting is to be provided separate from the transitional housing structure kitting – both kits can be delivered to the Santa Maria site at the same time with the parking lot used to stage the kits. The Boss Cubez basic units will have 2 panels; blocks will always use 2-panels per unit – e.g. 10 solar panels total for 5 housing units in a block. Aspects such as wiring would be revised as needed for re-installation at other sites.
Following are the standardization components:
Meter: single meter per site

Inverters: Sol-Ark, 15kW. 

Panels: Qcells, details following.

Battery: HomeGrid, details following.

Wiring etc.: some items will be designed per kit, some at site level as required.
The standardization designs for the Boss Cubez units will achieve over 100% of Net Zero Energy for all the DignityMoves Santa Maria transitional housing units, thus satisfying the goal for the entire site. The Solar for the Boss Cubez units is 216 Qcell 400W panels, based on:
(29) Cube 144 2 rooms – residences & offices (29 x 4 panels)

(1) Cube 144 1 room – Clinic (1 x 4 panels)

(16) Cube 170 2 rooms – Couples/ADA residences (16 x 5 panels)

(2) Cube 288 1 room – Dining & Flex (2 x 8 panels)
The above totals 86.4kW / 139,100 kWh of available onsite solar power – above the site's total net zero capacity of 75.2kW / 121,899 kWh.
The resulting site layout is 86 kWdc (114% of Net Zero Energy) from the 216 (400W) Q Cells panels: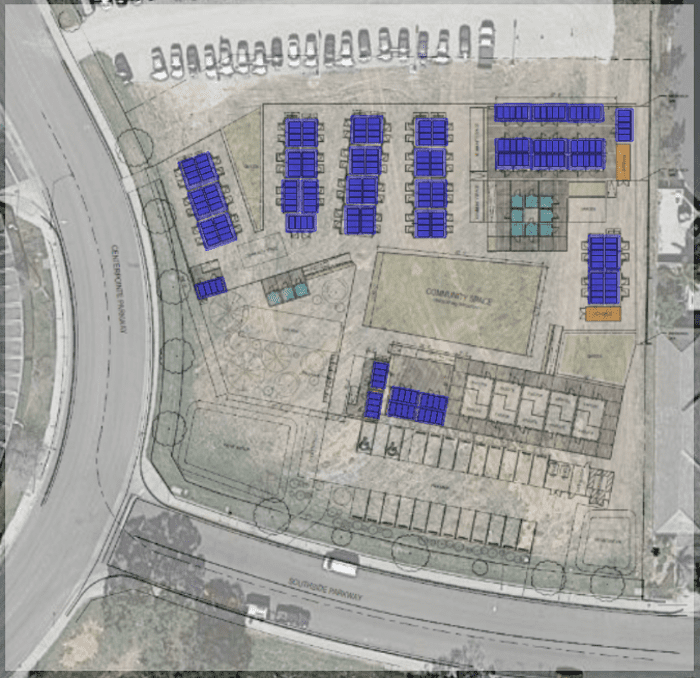 Following are the solar standardization designs for the Boss Cubez units: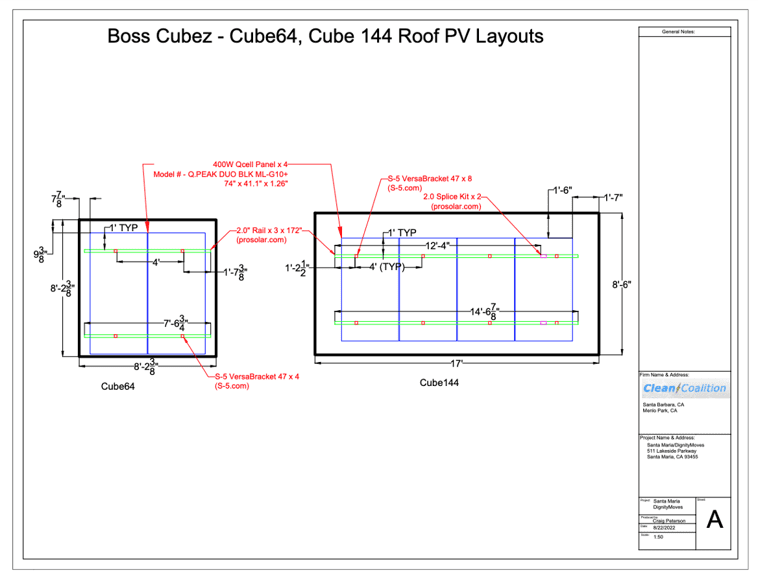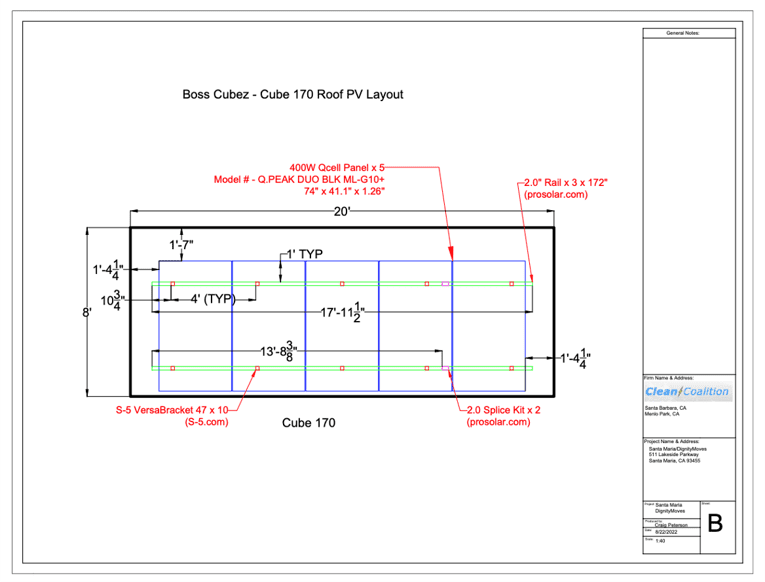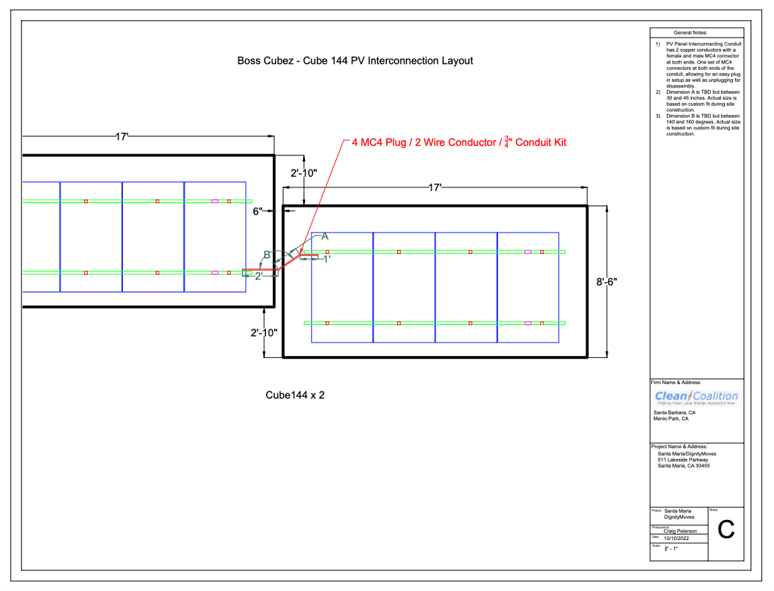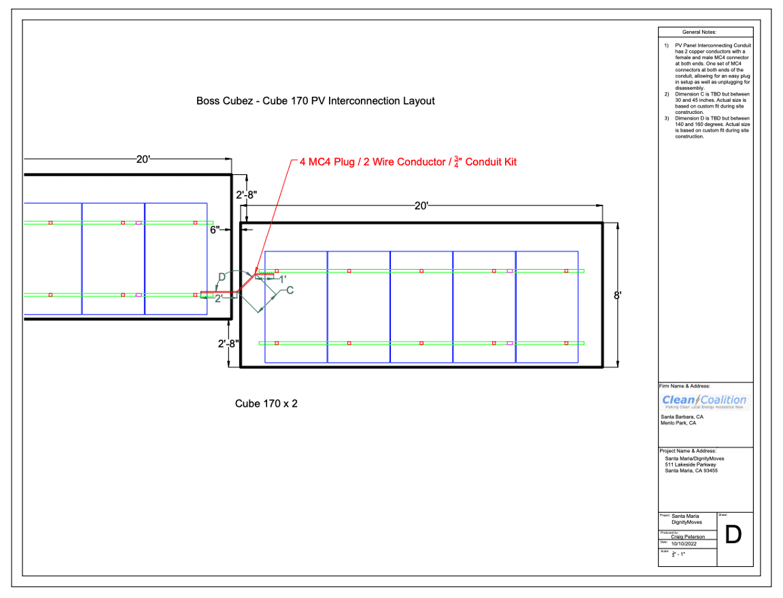 This solution would use SolArk inverters with 36 Qcell 400W solar panels per Sol-Ark inverter, and with each SolArk inverter interconnected with and managing the HomeGrid batteries per the diagram below: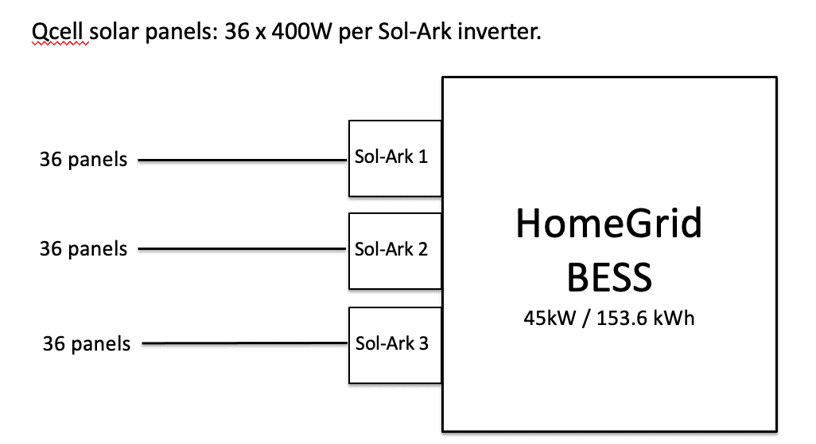 Thus, the system diagram for the Santa Maria site is as follows, including key notes: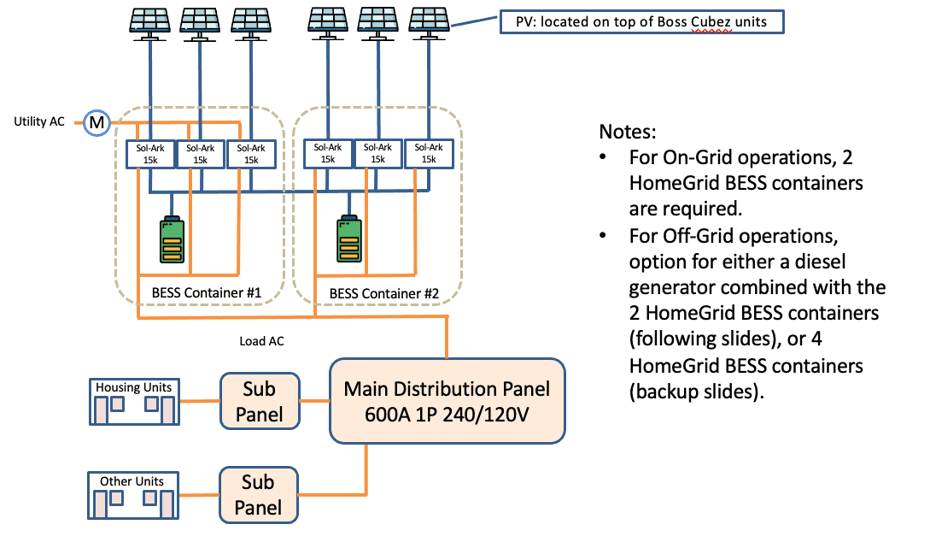 Key details regarding the HomeGrid Powercube Series batteries are as follows: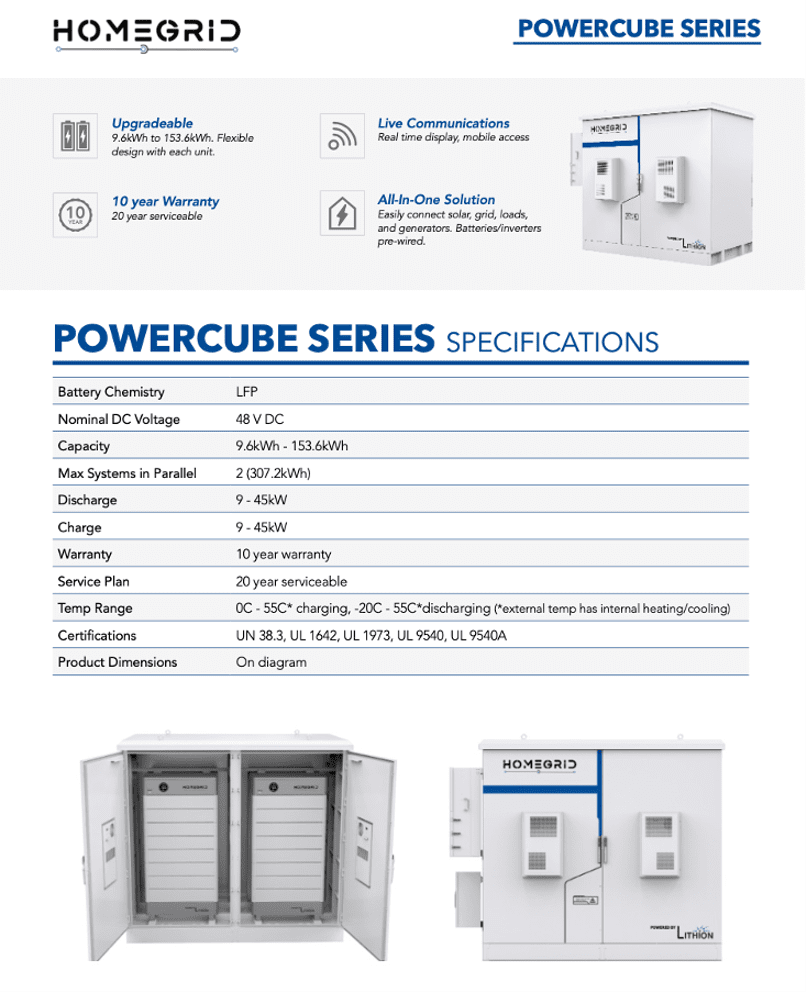 Following is the on-grid battery storage sizing, system cost, and resilience as planned for the DignityMoves Santa Maria location, utilizing the proposed two battery containers:

Economic Analysis
The Clean Coalition's economic analysis of the standardized Solar Microgrid for the DignityMoves Santa Maria location resulted in hundreds of thousands of dollars in savings for DignityMoves over a 25-year period – and this will apply for all sites where this standardized solution is deployed. The results for both a cash purchase option and a Power Purchase Agreement (PPA) option are provided below:
25 Year Solar Microgrid cash purchase key economic analysis featuring two battery containers: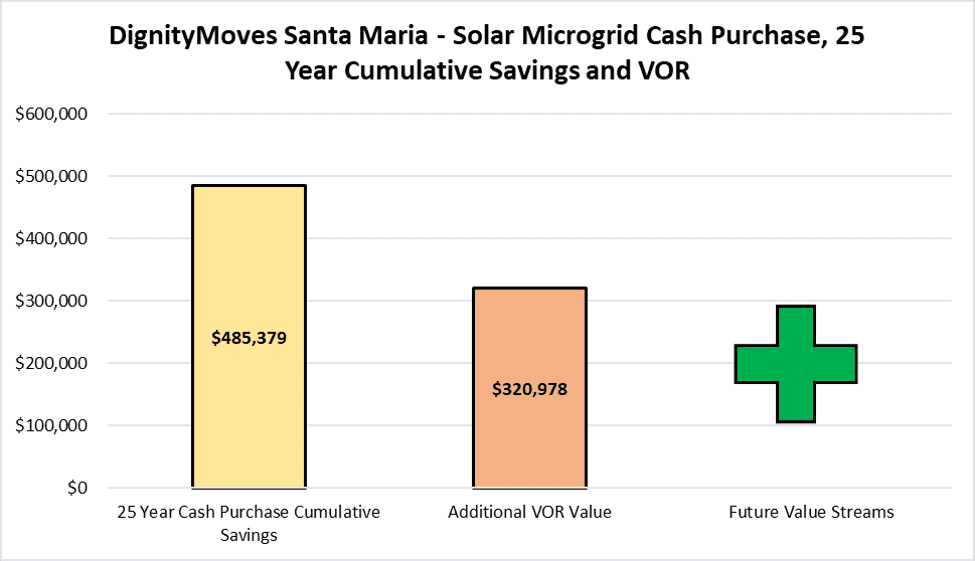 25 Year Solar Microgrid fixed PPA key economic analysis featuring  two battery containers: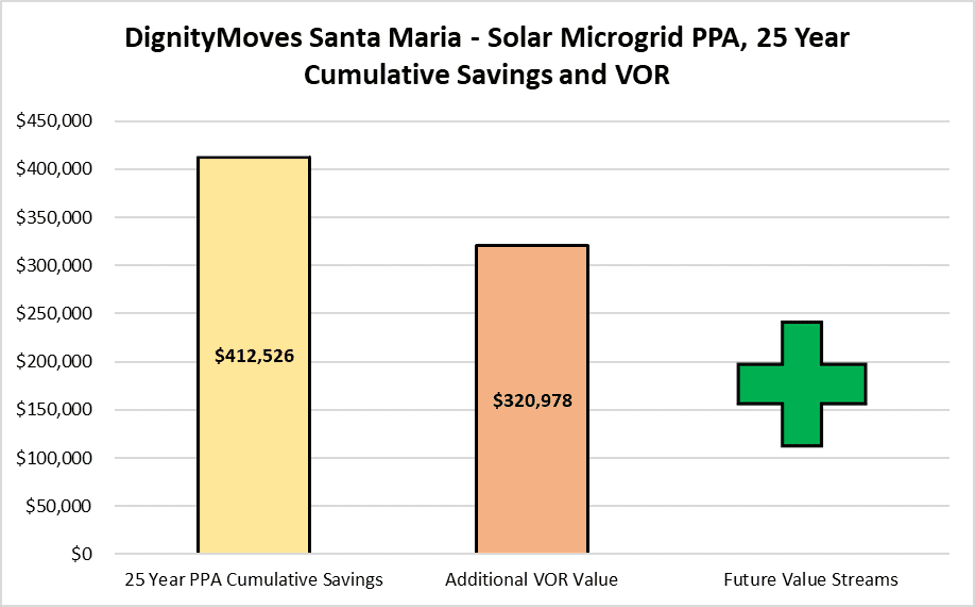 The above economic analysis demonstrates that transitional housing sites can save many hundreds of thousands of dollars by deploying these standardized Solar Microgrid systems for their transitional housing units, while also benefiting from additional value – the Value of Resilience (VOR) these solutions provide – typically valued as a 25% adder to the total utility bill and estimated here as over $300,000 in added benefits – thus achieving over $700,000 in economic value for similar sized transitional housing locations.
This feasibility study with the standardized design that the Clean Coalition completed for DignityMoves provides a solution for transitional housing everywhere, delivering an unparalleled trifecta of clean energy, critical resilience, and significant cost savings. As a standardized solution, this applies to all transitional housing sites that utilize this Solar Microgrid system.
The Clean Coalition also completed a Solar Microgrid feasibility study for another DignityMoves site, this one with permanent housing planned for Rohnert Park, CA. This project demonstrated the same substantial clean energy, resilience, and cost savings benefits – providing the transitional housing planned for this site with Net Zero Energy, indefinite resilience for all mission-critical Tier 1 loads with substantial support for Tier 2 priority loads, and over $400,000 in net utility bill savings utilizing a PPA financing option with no upfront cost for DignityMoves – demonstrating yet again that Solar Microgrids provide the answer for Community Resilience, as well as decarbonization goals and significant cost savings.