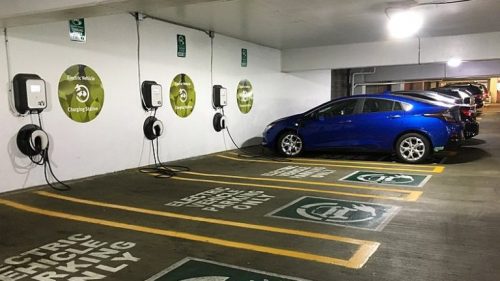 Supercharging the expansion of electric vehicle charging infrastructure
While California has made great strides toward its goal of 5 million EVs by 2030, more steps are needed to get there.
California Governor Jerry Brown set a goal of five million electric vehicles (EV) on the roads by 2030. To achieve this, California is planning for 250,000 EV chargers, including 10,000 fast chargers, by 2025. Having an extensive network of charging stations will reassure people considering EVs that charging will be available where and when they need it.
While California has made great strides toward the goal of 5 million EVs by 2030, the figure below shows how far the state still needs to go. A key to making progress is knowing where to focus efforts to expand electric vehicle charging infrastructure (EVCI).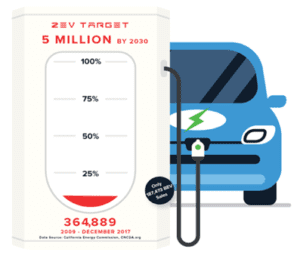 How the charging infrastructure focus has evolved
Until recently, most EVs had ranges of just 80–100 miles. Because of that, EVCI development focused on expanding the number of chargers for short-range commuters and encouraged the proliferation of residential and workplace chargers. But the availability of longer-range EVs has catalyzed a new charging infrastructure development paradigm.
EV advocates have been surprised at how quickly EV manufacturers have been able to extend vehicle range. The price of battery technology has fallen faster than most people anticipated, and this price drop has precipitated EV range expansion.
Currently, three EV models are available in the U.S. that can travel over 200 miles on a charge:
Tesla Model S: 210–350-mile range
Tesla Model X: 210–325-mile range
Chevy Bolt: 237-mile range
Plug-in hybrid models, which run on both electricity and gasoline, are also available. For short commutes, plug-in hybrids may be able to travel in electric mode only, but they also offer the fuel flexibility to take longer trips.
With more long-range EVs available, EV infrastructure planners are now focusing on building charging stations in public spaces, such as retail space parking lots and transit corridors near highways. Grant money from regional agencies and utilities, as well as innovative public-private partnerships, can provide most or all of the funding for 240-volt Level 2 (L2) and 480-volt Direct Current Fast Chargers (DCFC).
What local governments can do to expand EV charging infrastructure
Local governments that want to reduce their jurisdiction's greenhouse gas emissions have a vital role to play — without having to spend money on EVCI. A new EVCI Master Plan by the Peninsula Advanced Energy Community (PAEC) outlines the top five things local governments can do to supercharge the expansion of EVCI.
Develop stronger code requirements for L2 charging outlets at multi-unit dwellings (MUDs) and workplaces (during new construction and major renovations)
At MUDs, require one charging outlet for each residential unit
At workplaces, require a certain percentage of parking spaces to be EV-ready
Encourage building owners to take advantage of grants from public agencies and utilities that fund the major costs of installing EV charging stations at MUDs and workplaces
Encourage DCFC stations at transit corridors by allowing ownership, installation, and operation by third parties
Install or require installation of easily visible signage indicating the availability of on-site EV chargers. These are not intended for EV drivers, who can already use apps like plugshare.com to find chargers. Public signage visible from the road indicates to people who do not already own EVs that abundant EV charging stations are available.
Host or encourage "Ride & Drive" events to allow people considering EVs to learn about their benefits
These five efforts cost local governments little or no money and will help jurisdictions reduce their greenhouse gas emissions.
Why it's important to provide more charging opportunities
The transportation sector in California contributes 39% of California's carbon dioxide (CO2)-equivalent emissions. Electrifying the transportation sector is one of the top things we can do to shrink our carbon footprint, offering a sizeable reduction. By providing more opportunities to charge up, we can address a major reason people hesitate to buy EVs: range anxiety.
The PAEC EVCI Master Plan points out that our understanding about how best to expand EVCI has evolved as EV battery technology has matured. Currently, the focus is on L2 chargers at MUDs and workplaces, and DCFCs at retail and transit corridors. EVCI is a key component of Advanced Energy Communities — along with energy efficiency, renewable energy, zero net energy, and energy storage — that will help us build a clean local energy future.
PAEC is a groundbreaking initiative to streamline policies and showcase projects that facilitate local renewables and other advanced energy solutions like energy efficiency, energy storage, and EV charging infrastructure. PAEC will create pathways to cost-effective clean local energy and community resilience throughout San Mateo County, the City of Palo Alto, and beyond. PAEC is a collaboration between the Clean Coalition, the California Energy Commission, Pacific Gas and Electric, and an array of municipalities, emergency response jurisdictions, schools and universities, and corporate entities. For more information, please visit clean-coalition.org/PAEC.
Parking garage photo by Mariordo (Mario Roberto Durán Ortiz) [CC BY-SA 4.0 (https://creativecommons.org/licenses/by-sa/4.0)], from Wikimedia Commons