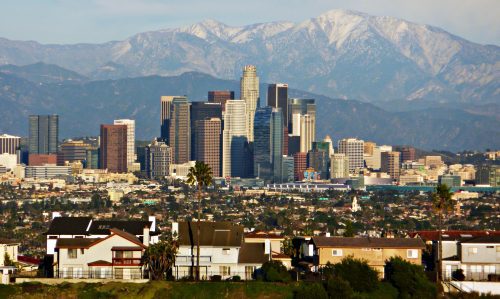 "Go Solar L.A." Campaign Rally
Executive Director Craig Lewis spoke at this event, which took place on April 30, 2013 in Los Angeles, CA.
Clean Coalition Executive Director Craig Lewis spoke in Los Angeles, CA on April 30 alongside a coalition of local elected officials, leading businesses and environmental groups that are mobilizing to get Los Angeles to make rooftop solar power a more central part of the city's energy supply.
The coalition gathered to launch a campaign to generate 20% of the city's summer-time electricity with rooftop solar power by 2020 and to release a new Environment California Research & Policy Center report that quantifies the unique benefits to the city of building 1200 megawatts of local solar power by 2020. As the Los Angeles Department of Water & Power seeks to replace or repower 70 percent of its energy supply over the next 15 years, support is growing for Los Angeles to use this opportunity to become the nation's solar power leader.
WHEN: April 30, 2013, 9:00 A.M.
WHERE: Los Angeles City Hall, 200 N Spring St., Los Angeles, CA 90012
WHO:
         Craig Lewis, Executive Director, Clean Coalition
         Los Angeles City Councilmember Paul Koretz
         Los Angeles-area physician Luis Pacheco
         Michelle Garakian, Vice President, Los Angeles Business Council
         Danny Kennedy, President, Sungevity
         Michelle Kinman, Clean Energy Advocate, Environment California
         Evan Gillespie, Western Region Deputy Director, Beyond Coal Campaign, Sierra Club
Representatives of several other LA businesses and organizations were also be at the event, including CALSEIA: California Solar Energy Industries Association, Coalition for Clean Air, Communities for a Better Environment, Global Green USA, Open Neighborhoods, SEIA: Solar Energy Industries Association and Solar Forward.