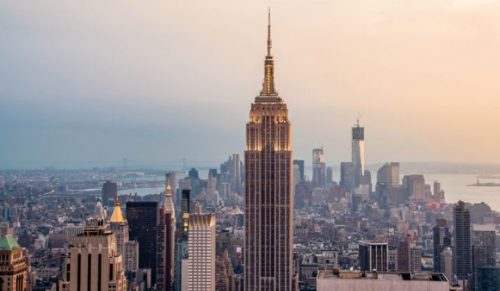 Press release: Gov. Cuomo's Administration Announces New Clean Energy Fund Proposal
Plan will bolster growing clean energy industry with 10-year, $5 billion commitment.
Link: Cuomo Announces Major New Clean Energy Program
For Immediate Release: September 24, 2014
Joint Statement:
Gov. Cuomo's Administration Announces New Clean Energy Fund Proposal
Plan will bolster growing clean energy industry with 10-year, $5 billion commitment
Albany – Late Tuesday, the New York State Energy Research and Development Authority (NYSERDA) released their Clean Energy Fund proposal, a plan to bridge the gap between New York's soon-to-expire renewable energy and energy efficiency programs and Governor Cuomo's Reforming the Energy Vision utility overhaul.
The plan includes a 10-year, $5 billion commitment to funding and supporting clean energy development, a pledge critical to bringing clean energy businesses and jobs to New York.
The program will focus on supporting business development, encouraging innovation and private investment, overcoming barriers to scale up energy efficiency and renewable energy, ensuring that low income New Yorkers benefit from clean energy and bolstering the Governor's already successful NY SUN initiative. Coupled with an increased role for the state's utilities investing in both energy efficiency and large-scale renewable energy, it could position New York as a national clean energy leader.
In response, The Alliance for Clean Energy New York, Clean Coalition, Earthjustice, NRDC, EDF, Pace Energy and Climate Center and The Sierra Club issued the following joint statement:
"The Clean Energy Fund is a bold commitment that will put New York on a path toward growing a strong and prosperous clean energy economy. We applaud NYSERDA for this long-term commitment to promote, develop and fund critical renewable energy and energy efficiency projects for the next ten years, ensuring New York doesn't miss out on the rapidly growing clean energy industry.
"A commitment of this magnitude provides the certainty, longevity and scale necessary for clean energy companies to invest in the Empire State and put us on track to meet our goals of reducing carbon pollution 50% by 2030 and 80% by 2050.
"Investing in renewable energy and energy efficiency will help protect New Yorkers from rising energy costs, polluted air and worsening climate disruption while growing our economy and creating jobs. We're already seeing the benefits of such a commitment to solar power in NY SUN, which helped drive yesterday's groundbreaking of the nation's largest solar manufacturing facility. NYSERDA's proposal has the potential to spur similar economic and public health benefits by promoting critical investment in both existing and emerging technologies like battery storage, offshore wind and energy efficiency in affordable multifamily housing. This will help improve the environment, air and water for communities who have traditionally suffered the most environmental harm.
"The Clean Energy Fund is a step towards providing access to clean energy and climate resilience for all New Yorkers including the most vulnerable communities that have been undeserved historically and especially hard hit by Sandy and other extreme weather.
"We look forward to working with the administration to further develop this plan, including establishing strong near term targets that will ensure New York is on track to meet our renewable energy, energy efficiency and carbon reduction goals so we can take our place as a national clean energy leader."
###
Background:
The Clean Energy Fund is a plan for promoting clean energy development after the current authorization of the Energy Efficiency Portfolio Standard (EEPS) and Renewable Energy Portfolio Standard (RPS) programs end in 2015. These programs are critical for creating a strong and stable market for clean energy that attracts clean energy businesses, creates jobs, lowers energy costs, curbs pollution and addresses climate disruption. The announcement comes during Governor Cuomo's "Climate Week" which is intended to get New Yorkers focused on the issue of climate disruption as world leaders descend on New York for a United Nations climate summit that was the focus of the largest climate mobilization in history on Sunday.
The Clean Energy Fund proposal is available here: http://documents.dps.ny.gov/public/MatterManagement/CaseMaster.aspx?Mattercaseno=14-M-0094
Contacts:
Kim Teplitzky, Sierra Club, (267) 307-4707 or kim.teplitzky@sierraclub.org
Anne Reynolds, Alliance for Clean Energy New York, (518) 248-4556 or areynolds@aceny.org
Jackson Morris, NRDC, (570) 380-9474 or jmorris@nrdc.org
Anita Jain, Environmental Defense Fund, (212) 616-1285 or anjain@edf.org
Abigail Dillen, Earthjustice, (212) 845-7378 or adillen@earthjustice.org
John Bernhardt, Clean Coalition, (703) 963-8750 or john@clean-coalition.org