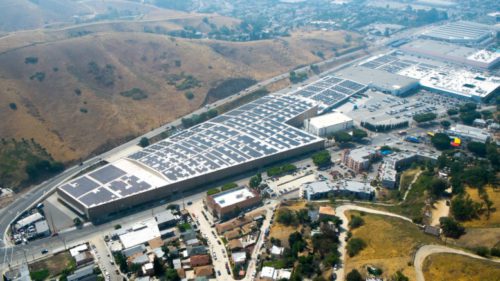 LADWP expands nation's largest rooftop solar Feed-In Tariff program to 450 MW
The addition of 300 MW to the program will unleash far more clean local energy and set the stage for renewables-driven resilience across Los Angeles.
The Clean Coalition offered guidance and support to the Los Angeles Department of Water and Power (LADWP) and its key advocate/architect, the Los Angeles Business Council (LABC), in the design of LADWP's initial 150 megawatt (MW) Feed-In Tariff (FIT) program, CLEAN LA Solar.
Now, LADWP is expanding the program by 300 MW to unleash far more clean local energy and set the stage for renewables-driven resilience for communities across Los Angeles. This will bring the program total to 450 MW.
The program will also incorporate some improvements: the single project cap will increase from 3 MW to 10 MW, and tiered pricing will be implemented to best prioritize consumer needs and project development.
How FITs unleash local renewables
A FIT is a standardized, long-term, guaranteed contract that allows local renewable energy projects to sell power to the local utility or other load-serving entity. Market-based, cost-effective FITs with streamlined interconnection allow local businesses, residents, and organizations to install clean local energy projects in underutilized spaces such as rooftops, parking lots, and parking structures.

Well-designed FITs have been proven to unleash local renewables, in particular wholesale distributed generation (WDG). This front-of-the-meter (FOM) distributed energy generation interconnects to the distribution grid and serves local loads, avoiding use of the transmission grid — which makes WDG far more resilient than remote energy generation. In addition, WDG provides communities significant economic and environmental benefits.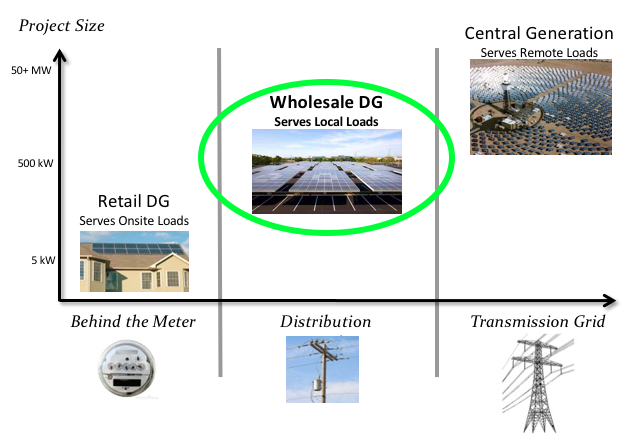 A state-of-the-art FIT
The Clean Coalition recently designed a FIT for the City of San Diego, which includes a Dispatchability Adder that makes solar energy available when needed most — instead of just when the sun is shining.
This modern, cost-effective FIT should be used as a model by any community wishing to unleash clean local energy. Both LADWP and the California Public Utilities Commission (CPUC) should take note of this state-of-the-art FIT.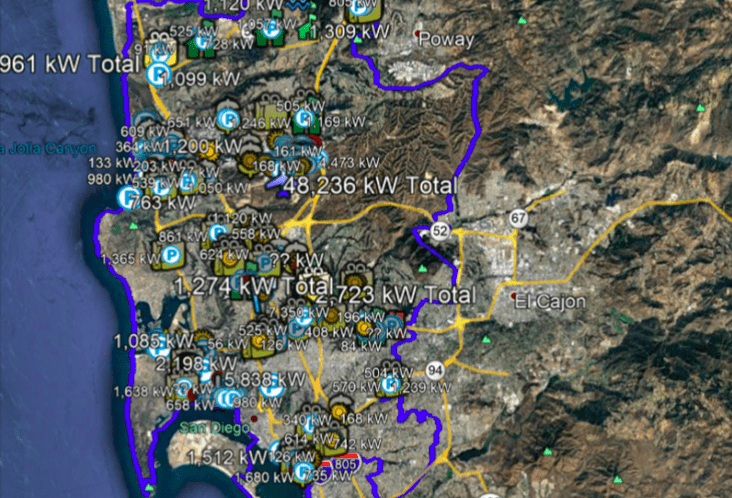 Why we need FITs to unleash clean local energy
The WDG market is vastly underserved in California and in much of the country. While net energy metering (NEM) works well for installations behind the meter, the policy is not well suited to commercial-scale solar for a number of reasons:
Commercial properties are often not occupied by their owners.
Many of these properties have split meters.
The electrical load of many commercial-scale sites, such as parking lots, is smaller than their generating capacity.
A well-designed FIT removes all of these issues. In addition, a FIT with Market Responsive Pricing allows prices to adjust based on market response — ensuring that energy contracts are always set at the best market price, while eliminating the parasitic transaction costs and failure rates associated with other approaches, such as auctions.
FITs are faster, cheaper, and more reliable than auctions because they are simpler for developers, property owners, utilities, and regulators. The standardized contracts and prices of FITs can be approved in a single decision — compared to the many rounds of proposals, evaluation, negotiation, and approvals that delay auctions — saving both time and money.
In sharp contrast, auction processes are expensive, slow, and risky, delayed by many rounds of proposals, evaluation, negotiation, and approvals. This raises costs for all parties, including ratepayers, and results in far fewer projects being built. Across California RPS solicitations, for example, fewer than 1 in 10 project bids were actually developed — resulting in high administrative costs for the program and exorbitant risks and costs for renewable energy project development: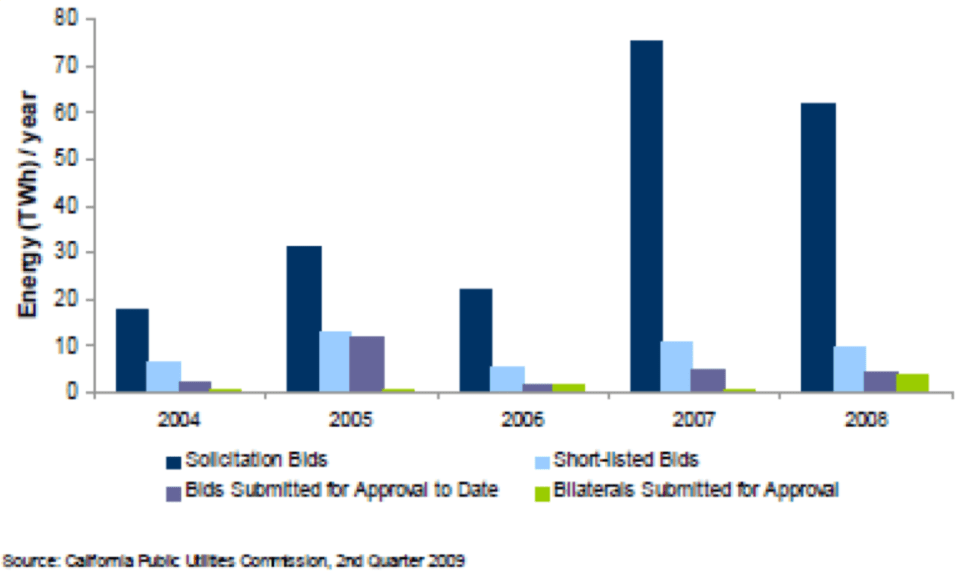 LADWP FIT benefits
In 2017, the 65 MW FiT Capacity Re-offer improved the LADWP FIT program's pricing and efficiency. A positive market response to the aggregate price of 14.5 cents/kWh led to the remaining 65 MW capacity being claimed in less than two years.
LADWP FIT benefits to date:
Generated over $500 million in new investment for the City
Created between 3,400 and 4,500 local jobs
Deployed nearly 40% of all in-service installations in disadvantaged communities with high solar potential, or Solar Hot Spots
Additional benefits expected when all LADWP FIT projects are interconnected:
68,500 metric ton reduction of greenhouse gas emissions annually
9,000 direct and indirect jobs created
Moving forward to unleash clean local energy
It's crucial that we take advantage of the significant solar siting potential for commercial-scale solar+storage in urban areas. We can site much more solar locally than we are doing now — and bring communities unparalleled economic, environmental, and resilience benefits.
The best way to do this is with a cost-effective, market-responsive FIT.
The CPUC should take note of how to truly unleash local renewables with a well-designed FIT. Additionally, they should implement the WDG Streamlined Interconnection Pilot that the Clean Coalition designed in partnership with Pacific Gas & Electric (PG&E) as part of a grant from the California Energy Commission (CEC).
California has ample sunshine waiting to be harnessed to benefit our communities. Let's move forward to ensure we reap all the benefits of our abundant solar resource.
Read more about the LADWP FIT expansion: