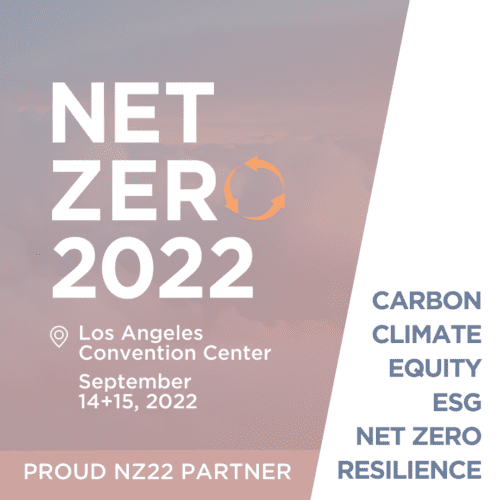 Net Zero 2022 Conference – 14-15 September 2022
The Clean Coalition was a partner organization for this conference, which took place 14 - 15 September 2022.

2021's Intergovernmental Panel on Climate Change (IPCC) Report reinforced and accentuated the challenge we face and the urgency that is necessary concerning the climate crisis. Over the last nine years, the Net Zero Conference has brought together those who understand it takes all of us to overcome climate change. This year's focus areas were:
Carbon + Climate + Equity + ESG + Net Zero + Resilience
The Clean Coalition was a partner organization for the 2022 Net Zero Conference, which is the world's largest net zero conference & expo. Industry leaders gathered on 14 – 15 September 2022 for an interactive Expo Hall, exciting keynotes, and educational sessions on net zero energy, decarbonization, and climate resilience. Hosted at the Los Angeles Convention Center (LACC), which has a 2.58-megawatt solar array, being the largest on a municipally-owned convention center in the U.S.
Click here for more information
World-Class Education Sessions
Agriculture, Biophilia, Buildings, Energy, Fashion, Food & Beverage, Health & Wellness, Materials, Personal Care, Technology, Transit, Waste, Water
Networking Across Industries
Over 1,500 attendees from 53 countries and 45 U.S. states
Inspiring Keynotes
Impactful speakers from multidisciplinary backgrounds hold our conference stage. Previous Keynote speakers from XPRIZE, Edison International, NASA, Seventh Generation, Zero Hour, and more.
Take Part in Climate Action
There's never been a more exciting time to join the ranks of those taking climate action.