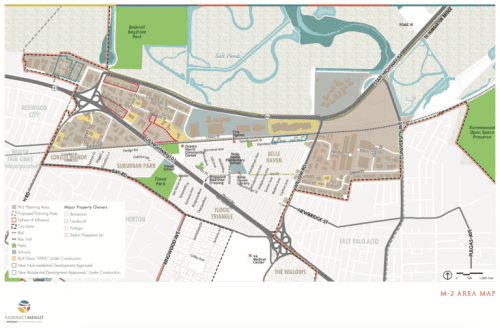 The reality of implementing 100% clean local energy
Menlo Park is at the forefront of clean energy leadership and is showing how California can reach its clean local energy goals.
Cities can set ambitious goals for 100% clean local energy, but making sure these goals are politically feasible requires buy-in from community stakeholders. Every city and county in California has a General Plan that guides development and land use for the next 10, 20, or 25 years. The City of Menlo Park's most recent General Plan update is of particular interest because it lays out a 100% renewable energy requirement for new developments in designated areas. This leading feature puts Menlo Park at the forefront of clean energy leadership and is supportive of California's statewide carbon reduction goals.
An essential part of Menlo Park's General Plan and M-2 Area Zoning Update is the flexibility it gives developers in meeting the 100% renewable energy requirement for the M-2 Area (see map below).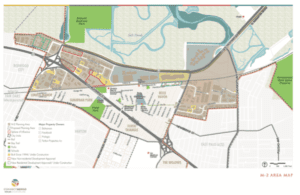 The M-2 Area sits along the San Francisco Bay between Highway 101, Highway 84, and Willow Road — and it is currently home to Facebook's headquarters, life science companies, and other businesses. Given the strong demand for office space and housing in the Bay Area, Menlo Park City Council updated the General Plan to allow the development of 2.3 million square feet of new office space and 4,500 housing units in the M-2 area. However, the City Council wants to ensure that new construction in the area will help Menlo Park meet its greenhouse gas reduction goal, a 27% reduction from 2005 levels by 2020, in the City's Climate Action Plan.
The stakeholder process
During the General Plan update, Menlo Park initially proposed that new developments should meet 80% of their energy needs through on-site renewable energy generation. A number of developers expressed support for renewable energy in principle but also raised concern that meeting this requirement would be challenging, given the energy intensity of some of the new buildings and the shading from existing tree cover. With input from Menlo Spark, the Clean Coalition, and the Environmental Quality Commission, the City of Menlo Park devised language for the General Plan update that allowed flexibility in how future development could meet the renewable energy requirement, while increasing the requirement from 80% to 100%.
New commercial construction will be required to conduct a feasibility study for on-site renewable energy generation, but developers are only required to implement 30% of the maximum on-site feasible renewable energy generation capacity for the property. Developments can utilize any combination of the following options to fulfill the remainder of their 100% renewable energy requirement:
Installation of on-site renewable energy (such as solar PV on rooftops and/or parking lots)
Purchase of 100% renewable electricity through Peninsula Clean Energy or Pacific Gas & Electric in an amount equal to the annual energy demand of the new construction project
Installation of local solar, or other renewable energy, within the City of Menlo Park in an amount equal to the annual energy demand of the new construction project
Purchase of certified Renewable Energy Credits equal to the energy demand of the project each year
Installation of renewable energy projects within the City of Menlo Park (the third option listed) ensures flexibility for developers while securing benefits throughout the Menlo Park community. For example, a property developer could pay for a 25-kilowatt solar PV system installation on the Boys & Girls Club building in Menlo Park to help meet their renewable energy requirements. This Boys & Girls Club location currently spends about $3,000 a month on electricity, and in this scenario, having on-site solar would reduce their energy bill and free up funds to be spent on programming for local children. When the City included this option in the list they were aiming to provide flexibility for development and a scalable benefit to the community.
Upcoming test case
Given the suite of options the City is giving developers to meet the renewable energy requirements, it will be interesting to see which combination of options developers pursue. Diane Bailey, the Executive Director of Menlo Spark, believes that once developers see the results of their property's on-site renewables feasibility study, they may find it easier to install a much greater amount of renewable energy up front. Soon there will be a test case to see how developers decide to meet City planning goals.
Growth of electric vehicle charging infrastructure
Beyond the renewable energy requirement for new development in the M-2 zone, Menlo Park's General Plan is also driving greenhouse gas emissions reductions from building and transportation sectors. The City's General Plan requires certain ratios of electric vehicle (EV) charging spaces to total parking lot spaces, which will undoubtedly expand adoption of EVs in the City.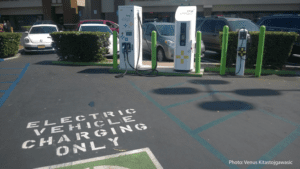 The transportation sector currently contributes 37% of the California's total greenhouse gas (GHG) emissions. Since California's electricity generation portfolio is relatively low-carbon already, and on a trajectory to become even less carbon-intensive, widespread adoption EVs is a key strategy for reducing statewide GHG emissions.
Electric vehicle charging infrastructure (EVCI) will be a key element of the Peninsula Advanced Energy Community (PAEC), which is an initiative launched by the Clean Coalition in partnership with a number of collaborators, and funded under the California Energy Commission's Electric Program Investment Charge. Advanced Energy Communities (AEC) use energy efficiency, renewable energy, energy storage, and EVCI to advance clean local energy. The benefits of AECs include:
Minimizing the need for new energy infrastructure costs such as transmission and distribution upgrades;
Supporting grid reliability and resiliency by incorporating technologies such as energy storage; and
Establishing projects that can be replicated and scaled-up to further drive down costs and provide affordable access to renewable energy generation.
The Menlo Park General Plan and M-2 Zoning Area Update's vision for clean local energy to drive reductions in GHG emissions has set the stage to make Advanced Energy Communities a reality. Other communities are watching to see how these new requirements will be applied and what they can learn from Menlo Park's experience.
The Peninsula Advanced Energy Community (PAEC) is a groundbreaking initiative to streamline policies and showcase projects that facilitate local renewables and other advanced energy solutions like energy efficiency, energy storage, and electric vehicle charging infrastructure. PAEC will create pathways to cost-effective clean local energy and community resilience throughout San Mateo County and the City of Palo Alto; and beyond. PAEC is a collaboration between the Clean Coalition, the California Energy Commission, Pacific Gas and Electric, and an array of municipalities, emergency response jurisdictions, schools and universities, and corporate entities. For more information, please visit www.clean-coalition.org/PAEC.