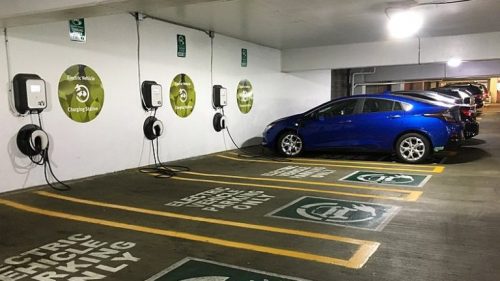 Webinar: Supercharging the buildout of electric vehicle charging infrastructure
Sven Thesen and Dr. Kristin Kuntz-Duriseti presented at this PAEC webinar, which was held on April 24, 2018.
The fourth webinar from the Peninsula Advanced Energy Community (PAEC) Initiative was held on April 24, 2018. This webinar detailed supercharging the buildout of electric vehicle (EV) charging infrastructure and featured Sven Thesen, an EV evangelist and Nobel Peace Prize winner, and Dr. Kristin Kuntz-Duriseti, Managing Editor of the Climatic Change journal.

Click here to watch this video on YouTube.
California Governor Jerry Brown set a goal of five million EVs on the roads by 2030. To achieve that goal, the state needs an extensive network of EV charging stations. California is planning for 250,000 EV chargers, including 10,000 fast chargers, by 2025.
The PAEC Initiative studied best practices, barriers, and tools for deploying EV charging infrastructure in southern San Mateo County, surrounding areas, and beyond. In this webinar, Sven Thesen and Dr. Kristin Kuntz-Duriseti shared the results, including innovative approaches already being used to deploy EV charging infrastructure.
The speakers presented on:
Integrating EV payment systems with existing pay-for-parking systems
Dovetailing EV charging station installation with planned parking garage lighting upgrades
The role of Feed-in Tariffs for EV charging infrastructure with solar PV
Public-private partnerships for EV charging infrastructure ownership
The importance of effective signage for EV charging stations
Existing and planned EV charging infrastructure projects in Palo Alto, Menlo Park, and Redwood City
Slides are available in PDF or PPT format.
Presenters
Sven Thesen is as an evangelist for EVs and zero net energy homes. Well known for the EV "Ride and Drives" he hosts, he also works with municipalities and businesses to develop, fundraise, and implement EV charging infrastructure. In support of the City of Palo Alto, he spearheaded the City's groundbreaking EV infrastructure ordinance. Sven is a chemical engineer who worked for Pacific Gas & Electric to demonstrate the potential for vehicle-to-grid energy transfer. He also worked at the startup Better Place, where he secured $7.5 million in grants for a Bay Area EV battery switch station taxi project. Sven is one of 2,200 engineers and scientists to share the 2007 Nobel Peace Prize for the Intergovernmental Panel on Climate Change's climate guidelines.
Dr. Kristin Kuntz-Duriseti is Managing Editor of Climatic Change, an international journal publishing interdisciplinary research on the description, causes, and implications of climate change. To support responsible and progressive sustainability policies, promote renewable energy projects, and shift our community to a low carbon future, Kristin has served as an Environmental Quality Commission for Menlo Park, California and she is a current Board Member for Menlo Spark, a nonprofit initiative working toward climate neutrality in Menlo Park. She has a PhD in Political Science and an MA in Economics.
About PAEC and our webinar series
PAEC is a groundbreaking initiative funded by the California Energy Commission to streamline policies and showcase projects that facilitate local renewables and other advanced energy solutions like energy efficiency, energy storage, and electric vehicle charging infrastructure. The PAEC Initiative will create pathways to cost-effective clean local energy and community resilience throughout San Mateo County, the City of Palo Alto, and beyond. Learn more about the PAEC initiative.
This webinar is the fourth in a series based on findings from the PAEC initiative. In this series, the authors of several new groundbreaking PAEC studies will present highlights of their findings. Learn more about our webinar series.