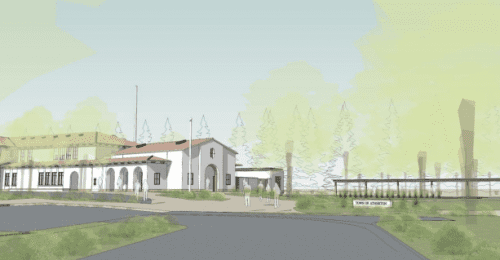 A pathway to zero net energy: Atherton, California
The Town of Atherton is developing an advanced energy community that will showcase a newly renovated Civic Center.
The Peninsula Advanced Energy Community (PAEC) initiative — a collaborative effort between non-profits, government agencies, utilities, businesses, and institutions — is fostering the development of Advanced Energy Communities (AEC) in southern San Mateo County, California. AECs incorporate energy efficiency, onsite renewable energy, energy storage, and electric vehicle charging infrastructure to secure a host of environmental and economic benefits. One of the PAEC partners is the Town of Atherton, which is currently developing an AEC that will include a showcase of a newly renovated Civic Center as part of this initiative.
Spread across five acres, Atherton's Town Center is comprised of a cluster of buildings (some of which were built in the 1920s) and temporary trailers. This municipal campus is undergoing significant renovations and will include: a new Library and renovated Town Hall, a new City Hall building with Town Administration and Community Development offices, a new Police Department including Council Chambers and an Emergency Operations Center, and a renovated Corporation Yard and Public Works building. A goal for the new municipal campus is to achieve zero net energy. In order to reach zero net energy, Atherton's Town Center is being designed to maximize energy and water efficiency, as well as to accommodate onsite solar photovoltaic (PV) systems to meet its electricity demand.
Developing the pathway to zero net energy for this project was not easy. Choosing non-fossil fuel heating and cooling technologies and maximizing solar energy in an area with heavy tree cover, all while keeping the project within budget, were just a few of the challenges. The design team also had to work within the confines of site setbacks, existing roadways, and existing utilities — all three constraining the geometry of the new Town Center buildings and the siting of the solar PV systems.
Driving down energy demand and maximizing renewable generation
Before sizing PV systems for the Town Hall site, the design team sought to develop highly efficient buildings and their systems. Energy efficient technologies planned include: LED lighting and controls, plug-load controls (which power down equipment when not in use), displacement ventilation in the Library, natural ventilation in the Library and Civic Center, an air source heat pump, and a thermal energy storage tank.
Between the HVAC, lighting, and plug-load controls, site designers estimated that the buildings' Energy Utilization Index — a Federal energy benchmarking tool that compares building energy use — will be a fraction of the national median energy use for similar properties. After exhausting every possible opportunity for energy efficiency, the team was ready to explore onsite renewable energy potential.
A total of 367 kilowatts of PV is currently planned for installation across roofs and solar carports at the site, and considering the five-acre site has a dense tree canopy, the design team aimed to retain these existing trees while maximizing PV generation. Solar carports will be particularly beneficial at this campus, as they reduce the solar absorption and radiation by vehicles and roadways while producing carbon-free electricity.
Solar Emergency Microgrid
A unique design feature in this project is deploying an onsite battery that will work in combination with the solar PV to provide emergency backup power. Together, these two elements create a Solar Emergency Microgrid that utilizes clean, non-polluting resources to provide backup power and can replace the existing dirty, fossil fuel-powered generators.
Atherton's Solar Emergency Microgrid is designed to provide power to critical operations at the Civic Center. It is sized to provide backup power for 72 hours under poor weather conditions (in which there is little solar output) and will be able to operate indefinitely under normal weather conditions. In the event of a prolonged grid outage, the Solar Emergency Microgrid will allow the police department to maintain services, including all of their dispatch and administrative capabilities, as well as serve the community as the Emergency Operations Center.
Peninsula Advanced Energy Community (PAEC)
Atherton's Civic Center project is currently scheduled to break ground in early 2018 and incorporates many key features of an AEC. While the essential elements of an AEC are all replicable and scalable, there are many barriers to their widespread adoption. With support from the California Energy Commission, the PAEC initiative is designed to study the barriers to AECs and identify breakthrough solutions to speed adoption of clean local energy projects and help build a resilient future.
The Peninsula Advanced Energy Community (PAEC) is a groundbreaking initiative to streamline policies and showcase projects that facilitate local renewables and other advanced energy solutions like energy efficiency, energy storage, and electric vehicle charging infrastructure. PAEC will create pathways to cost-effective clean local energy and community resilience throughout San Mateo County and the City of Palo Alto; and beyond. PAEC is a collaboration between the Clean Coalition, the California Energy Commission, Pacific Gas and Electric, and an array of municipalities, emergency response jurisdictions, schools and universities, and corporate entities. For more information, please visit www.clean-coalition.org/PAEC.