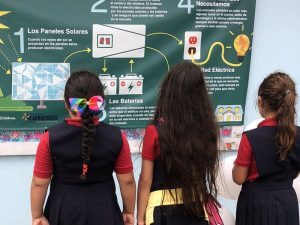 How Solar, Storage & Microgrids Save Money at K-12 Schools – Thursday, 27 August 2020 at 11am PT
Executive Director Craig Lewis presented at this 75-minute livestream, which took place on 27 August 2020.
Executive Director Craig Lewis presented on our microgrid work with the Santa Barbara Unified School District for this Microgrid Knowledge webinar, "Solar Microgrids for K-12 Schools: Saving Money and Educating for the Future," which took place on Thursday, 27 August 2020 at 11am – 12:15pm PT.
Register to view the webinar replay on demand.
Clean Coalition presentation slides are available in PPT and PDF format. 
Microgrid Knowledge hosted this livestream discussion with schools that are installing solar, energy storage and microgrids as a way to save money — and in some cases even earn revenue from their systems.
Panelists:
Laura Capps, president, Board of Education at the Santa Barbara Unified School District in California
John David Head, director of school operations, Acton Boxborough Regional School District in Massachusetts
Craig Lewis, executive director, Clean Coalition
Tish Tablan, program director, Generation 180
The Santa Barbara Unified School District issued a request for proposals (RFP) in May for at least six school microgrids as part of a solar and resilience project that encompasses 14 locations. Capps described why and how she pushed for the project after analyzing cost savings achieved by other school districts that had installed clean energy.
Tablan discussed findings from a soon-to-be-published solar study by Generation 180, which includes several examples of schools achieving cost savings, among them the Batesville School District in Arkansas. The district was able to boost teachers salaries — the lowest among five districts in its county — with savings achieved from its solar installation.
Livestream participants also heard about projects underway at the Acton-Boxborough school district, which serves 5,500 students. Head described a Tesla energy storage system now being installed on the main campus that is expected to generate $88,000 per year in revenue. The district also is working on a solar/storage microgrid for a new 177,000-square-foot school.
Lewis described methods the Clean Coalition has pioneered for ranking the value-of-resilience (VOR123) and managing battery capacity. The Clean Coalition assisted in the development of the Santa Barbara RFP.