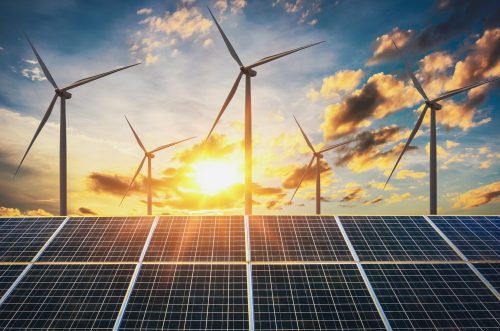 Identifying untapped potential for renewable energy in the Southwestern United States
The Clean Coalition found significant potential from ready-to-deploy wind and solar projects.
There is significant untapped potential for renewable energy in New Mexico and throughout the rest of the Southwestern United States. That includes potential from ready-to-deploy wind and solar projects that offer tremendous value in the form of economic, environmental, and resilience benefits.
In May 2020, the Clean Coalition conducted a study to better understand the current situation at a major utility that is well positioned to facilitate substantial deployments of additional renewables across the Southwest.
Study methodology
To conduct this study, we assessed the generation, sales, and production data for Tri-State Generation & Transmission Generation (TSGT or "Tri-State"). Tri-State is a nonprofit cooperative power supplier that aims to provide its member systems a reliable, affordable and responsible supply of electricity. The cooperative is made up of 46 members, including 43 electric distribution cooperatives and public power districts in four states that together provide power to more than a million electricity consumers across nearly 200,000 square miles of the western United States.
The Energy Information Administration (EIA) estimates the current and near-term unit inventory of electric power generating capacity by integrating the information from ongoing research of new units, along with information from two surveys:
The annual survey form EIA-860, which collects generator-level specific information about existing and proposed generating units at electric power plants with 1 megawatt (MW) or greater of combined nameplate capacity.
The monthly survey Form EIA-860M, "Monthly Update to Annual Electric Generator Report," which supplements the annual survey form EIA-860 data with monthly information.
Creating the monthly estimate sometimes requires using data submitted on the annual EIA-860 before it has been fully verified by the EIA. For this reason, reported capacities are EIA's preliminary estimates of capacity for that month. These estimates are corrected without specific acknowledgement or explanation in the subsequent month's inventory.
More data sources used in our analysis can be found on this page.
Significant untapped renewables potential
The Southwestern United States is perfectly situated to lead the nation in the transition to renewable energy, and utilities like Tri-State, and their regulators, need to do much more to unleash this unparalleled potential. Download the Clean Coalition's findings for the data-driven details:
Download the Generation Summary here (Excel spreadsheet).
Download the Sales & Production Summary here (Excel spreadsheet).